Nigerian Dr. Adekunle Osibogun Elected as Deputy Mayor of Buckingham, UK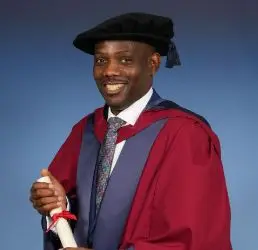 In a groundbreaking achievement, Dr. Adekunle Osibogun, a Nigerian-born scholar and lawyer, has been elected as the Deputy Mayor of Buckingham in England, United Kingdom. This significant appointment highlights the growing diversity and inclusivity in local governance, as Dr. Osibogun becomes the first person of Nigerian descent to hold such a position in the town. His election comes as a testament to his dedication to public service and his commitment to fostering community-focused initiatives.
Background and Political Career:
Dr. Adekunle Osibogun's association with the Buckingham community began in 2004 when he arrived in the town to pursue his second undergraduate degree. Currently serving as a councillor representing Buckingham South on the Buckingham Town Council, he is also a council member on Buckinghamshire County Council, representing Buckingham East. As a member of the Conservative and Unionist Party, Dr. Osibogun successfully contested the council elections held on May 6, 2021.
Roles and Responsibilities:
As the newly elected Deputy Mayor of Buckingham, Dr. Osibogun will play a pivotal role in supporting the Town Mayor and undertaking various responsibilities. He will assist in council meetings, promote community-driven initiatives, and address residents' concerns. Additionally, he will oversee the effective functioning of the town's public service departments. Dr. Osibogun will also assist the Town Mayor with administrative tasks related to the daily operations of the town council, represent the town at meetings with government officials, and examine and approve the proposed budget. Furthermore, he will attend public events in his official capacity, representing the town and engaging with the community.
Educational and Professional Achievements:
Hailing from Ijebu-Ode, Ogun State in South-West Nigeria, Dr. Adekunle Osibogun has pursued an impressive academic and professional career. He studied History at the University of Ibadan, Oyo State, before obtaining a Law degree from the University of Buckingham in 2006. He furthered his legal education by earning a Master's degree in Law from the University of Manchester in 2008, specializing in corporate governance. In 2022, he successfully completed his Doctorate Degree in Law at the University of Buckingham.
Dr. Osibogun is a member of the Middle Temple and a Solicitor and Advocate of the Supreme Court of Nigeria. As a practicing lawyer, he is the founding partner of Osibogun & Partners and serves as the principal consultant for AOLaw Ltd. Alongside his legal practice, Dr. Osibogun has contributed to academia by teaching corporate and commercial law at prestigious institutions such as the University of South Wales and the University of Buckingham. Currently, he imparts his knowledge and expertise in corporate and commercial law at the University of Law, Bloomsbury, London.
The election of Dr. Adekunle Osibogun as the Deputy Mayor of Buckingham is a remarkable milestone, symbolizing the inclusivity and multiculturalism that characterizes modern-day societies. With his extensive academic background, legal expertise, and commitment to public service, Dr. Osibogun is poised to make a meaningful impact on the town of Buckingham. His historic appointment not only showcases the achievements of individuals from diverse backgrounds but also serves as an inspiration for aspiring leaders seeking to contribute to their communities on a global scale.