Withdraw your frivolous lawsuit against Atiku as Activist tells Keyamo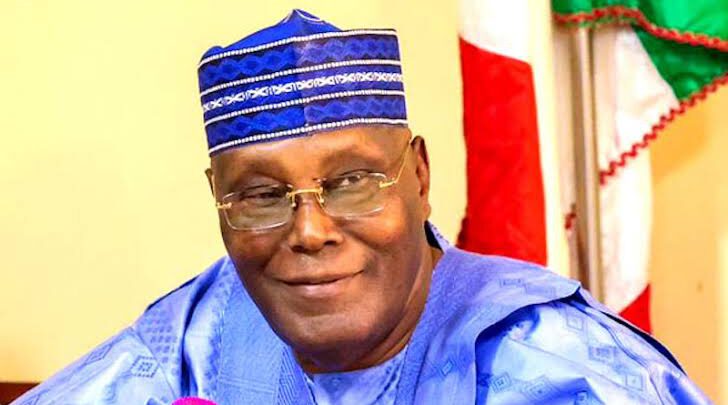 A human rights activist and Executive Chairman, Centre for Human Rights and Social Justice (CHRSJ), Comrade Adeniyi Alimi Sulaiman, has bombed the Minister of State for Labour and the acclaimed spokesperson for All Progressive Congress Presidential Campaign Council ( APC-PCC), Mr. Festus Keyamo,SAN, by urging him(Kayamo) to withdraw the frivolous and illegal lawsuit against the former Vice-President and Presidential candidate of the  Peoples Democratic Party (PDP) in the 2023 Presidential election, Alhaji Atiku Abubakar honourably over the purported and trump-up allegations of corruption and money laundering while in office as Vice-President of the Federal Republic of Nigeria,between 1999 and 2007.
The rights activist who described  Keyamo's lawsuit as action of less-busy body and legal delitianty of a typical legal practitioner, describing the lawsuit as a mere distraction, abuse of court process and to waste the precious time of judiciary by creating more palpable tension in the political space of the country ahead of February 25, 2023 Presidential election.
He urged Keyamo to stop embarrassing the legal Profession, Senior Silk cadre of the legal profession and the nation's human rights community which he professed to belong in the past because of crumbs, saying Keyamo should cover his face with this frivolous lawsuit that lacks bearing in the judicial system of the country.
Last week, Keyamo, approached the Federal High Court sitting in Abuja, in a Suit N0: FHC/ABJ/84/2023, praying the Court to compel former Vice-President,Atiku Abubakar to submit to the Economic and Financial Crimes Commission (EFCC), Independent Corrupt Practices and Other Related Offences Commission (ICPC) and Code of Conduct Bureau (CCB) for thorough investigation on a matter which the Apex Court in the land, the Supreme Court of Nigeria had given Atiku Abubakar clean bill in 2007 as the then Vice-President of the Federal Republic of Nigeria.
Keyamo, also sought in the Suit that Atiku needs to be investigated over an alleged information available to him(Keyamo) through the unsubstantiated information made available by an acclaimed former Aide to Atiku, Mr. Michael Achimugu who disclosed that Atiku told him(Achimugu) on how a Special Purpose Vehicles (SPV) were being used secretly to missappropriate public funds between 1999 and 2007 when the 1st Defendant (Atiku) served as Vice-President of the Federal Republic of Nigeria then. 
Comrade Sulaiman who doubles as Convener, Save Lagos Group (SLG), urged Nigerian masses not to take Mr. Keyamo Serious on this frivolous and political lawsuit by just looking at Keyamo as attention seeker who just want to use former Vice-President Atiku Abubakar to gain public sympathy and political relevance in 2023 after he had failed in his portfolio as Minister of State for Labour under which Academic Staff Union of the University (ASUU) went on industrial action for almost nine(9) months, without any tangible contribution from his Keyamo's office to the last time of ASUU strike.
The Pro-democracy activist was reacting to the frivolous lawsuit by Keyamo after critically studying the political legal action, condemned the  suit as unnecessary and uncalled for but just to cause setback for the good people of the country which they have determined to change the present ruling political party at the forthcoming poll for bringing untold hardship on Nigerians in the last eight(8) years.
Speaking through a signed statement by Comrade Sulaiman and made available to newsmen on Tuesday, noted that the prayers of the Suit were not different from the one orchestrated by Olusegun Obasajo Economic and Financial Crimes Commission (EFCC) under Nuhu Ribadu, when Festus Keyamo was Lawyer to EFCC, had brought against Atiku as the then Presidential candidate of Action Congress (AC) in 2007 and which the Supreme Court of Nigeria, had given Atiku clean bill to contest the presidential race then.
He added that when Festus Keyamo was hired legal practitioner to EFCC, no case was won in Court, except the one handled by other lawyers that lead to the conviction of Former Governor of Bayelsa State, late Diepreye  Alamieyesigha and former Inspector General of Police(IGP), late Alhaji Taffa Balogun.
According to him: "Festus Keyamo should know that there is dynamism in Nigeria society of today than that of  2007 vis a vis the law of the land and  Nigeria is a republic of legal entity where due process of law and procedures needed to be followed. So, therefore, no lower Court could adjudicate on the issues that had been settled by the Supreme Court of Nigeria.
"So, in this wise, Keyamo's Suit is instituted against Alhaji Atiku Abubakar out of malice with the sole aim of returning the country back to the dark days of Obasanjo era of 2006/2007 civil-militocracy and Keyamo should know that Nigeria political space had moved beyond the Obasanjo civilian era with the signing of Electoral Act 2022 by President Muhammadu Buhari and no Court in the land would dabble into the matter that the Supreme Court of Nigeria had been settled as trite principle of law".
Sulaiman emphatically stated that Kayamo lacks moral obligation to institute such an action against Atiku Abubakar because of his hanky-panky role being played in the death of former Attorney-General and Minister of Justice, Late Chief Bola Ige which was still fresh in the memory of Nigerians, adding that the nation's human rights community, would never forget how Keyamo betrayed our mentor and legal luminary and doyen of human rights activism in Africa, Late Chief Gani Fawehinmi,(SAN/SAM), because of crumbs.
He therefore urged Mr. Keyamo to honourably withdraw the present Suit from the Federal High Court, Abuja as no Court in the land would adjudicate on such frivolous case, asking rehetorically why Keyamo just woke up now to file such frivolous lawsuit in just four(4) weeks to the Presidential election where Atiku Abubakar is a leading contender?