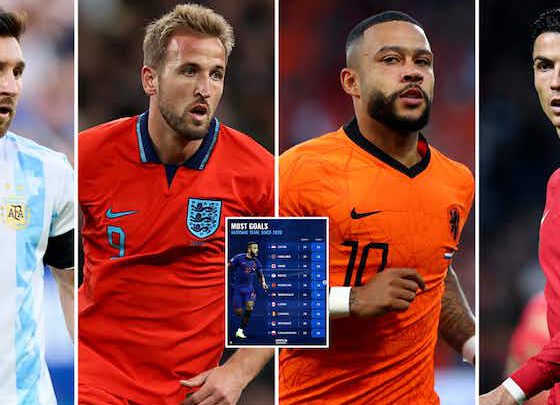 Which players have been in the best goalscoring form for their respective national teams in recent years?
As ever, Lionel Messi and Cristiano Ronaldo have been right at the forefront of the scoring charts with both players making the top 10.
But we also have other big names making the grade courtesy of Harry Kane and Robert Lewandowski.
The former moved one goal closer to breaking Wayne Rooney's England international scoring record on Monday evening, with Kane's penalty moving him to within two strikes of the record-holder.
However, when it comes to crowning the most prolific international player ahead of this year's World Cup of Qatar, the result springs quite the surprise.
The 10 highest international scorers since 2020
10. Robert Lewandowski: 22 games | 15 goals 9. Aleksandar Mitrovic: 20 games | 15 goals 8. Romelu Lukaku: 18 games | 16 goals 7. Cyle Larin: 22 games | 17 goals 6. Ali Mabkhout: 21 games | 17 goals 5. Cristiano Ronaldo: 26 games | 18 goals 4. Lionel Messi: 25 games | 18 goals 3. Harry Kane: 30 games | 19 goals 2. Erling Haaland: 20 games | 21 goals 1. Memphis Depay: 29 games | 23 goals
So, it's Depay's 23 strikes across the past two and a half years which makes him the leading scorer heading into the World Cup.
However, it's worth noting that Haaland is the only player to average more than a goal in every game he players – no surprise there then based on his form for Man City.
Kane edges out Messi and Ronaldo, although the Englishman has appeared more times than both.
Whilst Mabkhout of the United Arab Emirates national team and Larin of Canada seize sixth and seventh place.
Lukaku has been in impressive international form having scored 16 times in 18 matches.
And the top 10 is rounded off by Mitrovic and Lewandowski.
Courtesy: OneFootball.