Lack of funds hampers fight against terrorism-Army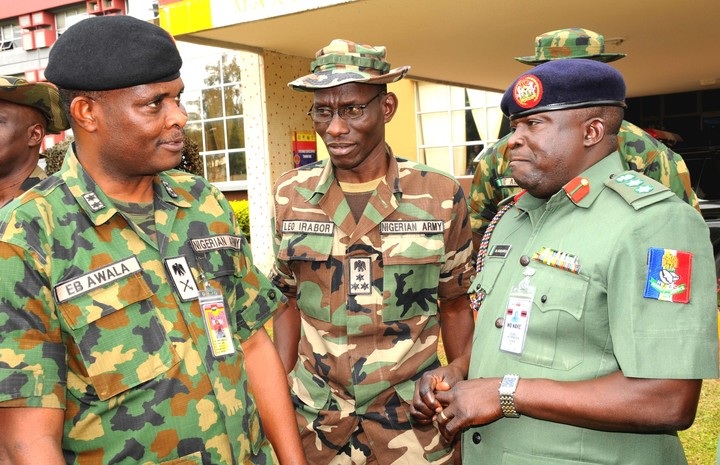 Picture: FROM LEFT: GOC, 3 DIV., MAJ.-GEN. EBIOBOWEI AWALA; COMMANDER, 53 DIV. (SIGNALS), BRIG.-GEN. LUCKY IRABOR AND REPRESENTATIVE OF THE CHIEF OF ACCOUNTS AND BUDGET, NIGERIA ARMY, COL. JEREMIAH FARANSA, AT THE 3 DIV.'S FINANCE TRAINING SESSION IN JOS ON FRIDAY. Courtesy NAN
The Nigerian Army requires more funds if it is to effectively tackle security challenges, Maj.-Gen. Abdullahi Muraina, the Chief of Accounts and Budgets (CAB), has said.
Muraina said in Jos on Friday that the budgetary allocations were inadequate and must be improved to help the armed forces to meet contemporary realities of the country.
He spoke at a two-day finance training session for officers and soldiers of the 3 Amoured Division, Nigerian Army, Jos.
"The sustenance of various military operations requires higher capabilities to maintain the required level and duration of operations to achieve the planned results.
"However, doing that requires more resources, training and mission readiness, which requires adequate funding,'' he said.
Represented by Col. Jeremiah Faransa, his Chief of Staff, Muraina, however said that the army must use the available resources the best way it could, so as to achieve set goals.
He said the theme, "Meeting Contemporary Nigerian Army Challenges through Effective and Efficient Utilisation of Resources'', was apt, given the situation that army had found itself.
"The environment, which we live in today, demands prudent and wise management of funds and resources held in trust by us for the Nigerian Army.
"This is because, given the dwindling financial allocation, making wrong choices can threaten the very survival goals of the army,'' he said.
He advised the Army Finance staff to be tactful in resource management so that goals could be achieved at minimum costs.
The General Officer Commanding the Division, Maj.-Gen. Ebiobowe Awala, enjoined participants to continue to update their knowledge in the management of Nigerian Army Finances.
Awala explained that the creation of another division out of the 3 Amoured Division was to bring the force closer to the people and also tackle security challenges in North-Eastern Nigeria.
The Commander, 3 Amoured Division Finance and Accounts, Col. Abiodun Oladele, said the training was aimed at preparing the finance staff for the challenges of the rapidly changing financial environment.
"We are doing this in line with the mission of the CAB, which is to manage the core finance operations of the Nigerian Army effectively and efficiently in ensuring that resources are utilised in the most cost effective manner.
"In line with this, several finance personnel have attended training workshops abroad in addition to the local training,'' Oladele said.