Kogi Ministry of Health Distributes Nutrition Commodities to Flood Victims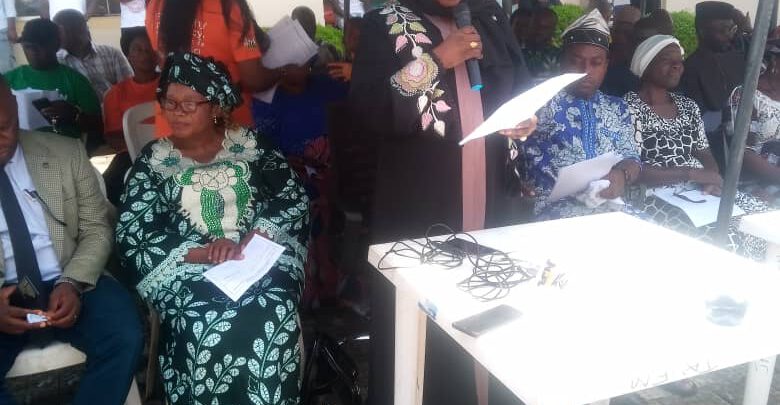 From Joseph Amedu, Lokoja
The Kogi state Ministry of Health through the Accelerating Nutrition Results in Nigeria (ANRiN) project, on Thursday, flagged off continued distribution of nutrition commodities worth N14million to flood victims across the riverine communities in the state.
Commissioner of Health, Dr. Zakari Usman who was represented by the Permanent Secretary, Hajia Razaq Yinka while distributing the commodities to the beneficiaries at the Ministry's headquarters premises in Lokoja on Thursday, said that the gesture is part of the ANRiN project activities to alleviate the pains and sufferings encountered by flood victims as well as mitigation against future occurrence.
"These interventions were driven through the Non-State Actors and the State Primary Health Care Development Agency, who are being supervised by the Project Implementation Unit. The main objective of these interventions is to reduce/eradicate the scourge of malnutrition in the state.
"Kogi was one of the states in Nigeria mostly affected by flood recently which necessited Government and Partners to come to the aid of the victims through relocation of victims and provision of relief materials.
"In a bid to achieve its aim and objective, the ANRiN project (Project Coordinated by the Ministry of Health) through the support of the World Bank and one of the Non State Actors (Save the Children) has distributed some nutritional commodities and relief materials to the victims of the flood in their camps and communities. Save the Children international, supported the victims with relief materials worth $100,000:00 while the ANRiON project provided nutritional commodities worth Fourteen million Naira (N14MILLION).
"The commodities distributed include: Grains like cornflakes, granola, cocopops, Weetabix protein etc, Milk, Micronutrient powder for children, Water guards and Long Lasting Insecticidal Nets" the commissioner disclosed.
According to the commissioner, these commodities will be taken to the communities badly affected by flood and shall be distributed through the community leaders to those parents and children still suffering from the pains of flood.
Similarly, the Commissioner for Health, Dr. Zakari Usman while briefing Journalists on the activities of ANRiON, explained that the project became effective in May, 2019 and Kogi is one of the twelve states that is currently operating the project in Nigeria.
Usman appreciated Governor Yahaya Bello's giant strides in the health sector which according to him has put the state in a very good stead amongst committee of states in the Federation.
"Nigeria has very high rates of malnutrition that are presently spread across the country of which two out of every five children (44%) under five years suffer from chronic malnutrition. This translates into about 14.5million Nigerian Children who will either die or develop to their full potential
"The Nutrition and Health Survey reveals that Kogi state ranks 22.7% in stunting cases" the commissioner further disclosed.