Breaking…Senator Ike Ekweremadu, wife found guilty of harvesting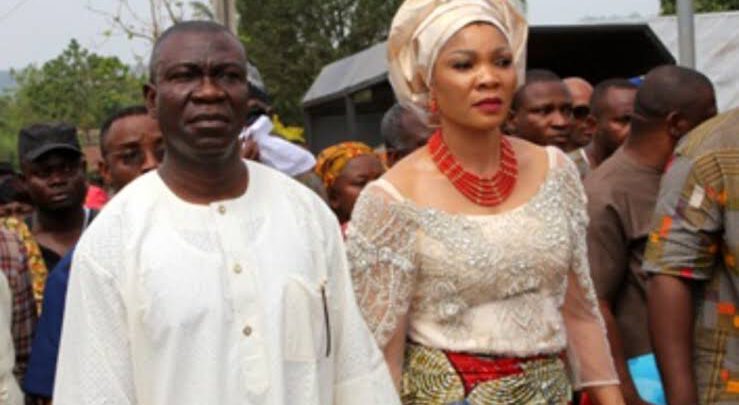 A Nigerian senator has been convicted of plotting to exploit a Lagos street trader by bringing him to the UK and harvesting his kidney for his unwell daughter. 
Senator Ike Ekweremadu, 60, his wife Beatrice, 56, and medical "middleman" Dr Obinna Obeta, 50, were found guilty at the Old Bailey of conspiring to exploit a young man from Lagos for his body part.
The Ekweremadus' daughter Sonia, 25, wept as she was cleared of the same charge on Thursday.
t is the first time defendants have been convicted under the Modern Slavery Act of an organ harvesting conspiracy.
The victim, a 21-year-old street trader from Lagos, was brought to the UK last year to provide a kidney to Sonia in an £80,000 private transplant at the Royal Free Hospital in London.
Ekweremadu, a Nigerian politician, promised the victim, 21, up to £7,000 and a better life if he travelled to the UK to donate his kidney to his 25-year-old daughter, Sonia, in a private transplant operation.
It is unlawful to pay someone to donate organs, meaning Ekweremadu, his daughter, his wife Beatrice, 56, and the medical "middleman", Dr Obinna Obeta, 50, were charged with a criminal offence when their conspiracy was uncovered.
Following a trial at the Old Bailey, all four defendants were found guilty of conspiring to arrange or facilitate the travel of the young man with a view to exploitation between August 1 2021 and May 5 2022.
Jurors heard that Sonia was to have been the recipient of the victim's kidney in an £80,000 private transplant operation at the Royal Free Hospital in Hampstead, north London.
As part of the alleged plot, "elaborate" steps were taken to create the false impression that Sonia and her proposed donor were cousins.
Opening their trial, Hugh Davies KC said Ike and his wife were powerful figures in Nigerian society, but their status could not guarantee the good health of their family.
Sonia had a "significant and deteriorating" kidney condition which could be managed through dialysis, but cured with a transplant.
The Ekweremadus allegedly set about finding a donor, enlisting the help of Obeta, a former medical school classmate of Ike's brother Isaac "Diwe" Ekweremadu, who remains in Nigeria.
The 21-year-old donor was eventually identified. At the time, he was making just a few pounds a day selling telephone parts from a cart.
Mr Davies said that the young man's account was that he believed he was being taken to London to work and the tests were for a visa.
Under the agreement, the young man was to be paid either £2,400 or £7,000 in Nigerian Naira plus the promise of work and the opportunity to be in the United Kingdom, the prosecution alleged.
But Mr Davies told jurors: "Relative to the wider medical costs of the process – measured in tens of thousands of pounds – which would have been done privately, his reward was to be a small fraction of the whole.
"To him – a street trader from Lagos – these sums and rewards were significant."
Once the street trader was found to be a suitable match, he was transported to London in February 2022 under the "direction and financial control" of the alleged plotters, Mr Davies said.
He was falsely presented as Sonia's cousin in a failed bid to persuade medics at the Royal Free Hospital in London to carry out the private procedure, the Old Bailey heard.
The donor was noted as being "visibly relieved" on being told the transplant would not go ahead.
After he was rejected as unsuitable, it is alleged the Ekweremadus transferred their interest to Turkey and set about finding another donor.
Giving evidence at the Old Bailey, Ike tried to claim that he was the "victim" in the whole saga and said he was "scammed" by the medics involved.