Ebonyi: Ebubeagu operative kills colleague over N1,000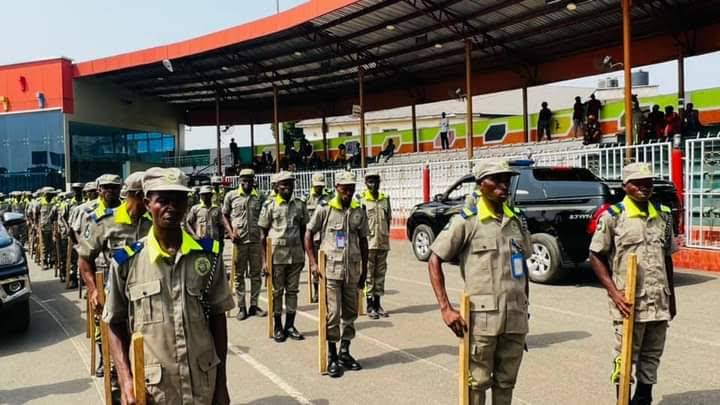 An Ebubeagu operative, Ajasm Aja, has been shot dead by his colleague over N1000, in Ebonyi State.
It was gathered that the late Aja and his assailant were part of the Ebubeagu team drafted to Isu Community, in the Onicha Local Government Area of Ebonyi State, to provide security at the All Progressives Congress governorship rally in the area, on Saturday.
After the rally, it was learnt that the team was directed to bring and secure the party's flags for subsequent rallies, when an altercation ensued between the deceased and his trigger-happy colleague over N1,000.
It was learnt that Aja rushed for his pump action rifle but his opponent swiftly pulled his pistol, shot him in the head, which led to his death on the spot.
A source in the community, who pleaded anonymity, said, "Today, Saturday 28th January 2023 the APC had their rally at Isu, the council headquarters of Onicha LGA.
"At the close of the event, the Ebubeagu members and G-24 group, were asked to collect back the party's flag in readiness for other events.
"In the process of doing so, one of the Ebubeagu members and a leader in the G-24 group, popularly known as Ajasm Aja, who was recently sworn-in as Supervisory Councillor for Health in the Onicha council area, was engulfed in strong altercation with a co-member.
"As the duo engaged in a war of words, Mr Aja pulled his pump action rifle and aimed to shoot at the other colleague. In swift response, the colleague was quicker in action, pulled a pistol and shot him in the forehead.
"He fell flat immediately and died on the spot."
When contacted, the Ebubeagu Commander in Ebonyi State, Mr Friday Nnana-Ujor, on Monday, said the attacker wasn't an operative of the South-East security outfit, revealing the assistant was a suspected gunman, who also wielded a pump action gun like his own men.
He said, "No. It was not an Ebubeagu person that shot him.
"That thing was stage-managed; it was people that packed behind a Sienna bus that killed him. The person that did that was sent to do so. People are thinking that it was an Ebubeagu personnel that killed the person, but it is not true.
"It's because the gun they used in killing the person was a pump action. No Ebubeagu person goes to the rally ground with arms. We had a meeting and made that decision. We are currently investigating the matter and very soon we will arrest the culprit and call journalists to hear from him. I don't want people to think that it's politics. Just exercise some patience." Punch.