2 lawmakers jailed 6 months For Assaulting Pregnant Colleague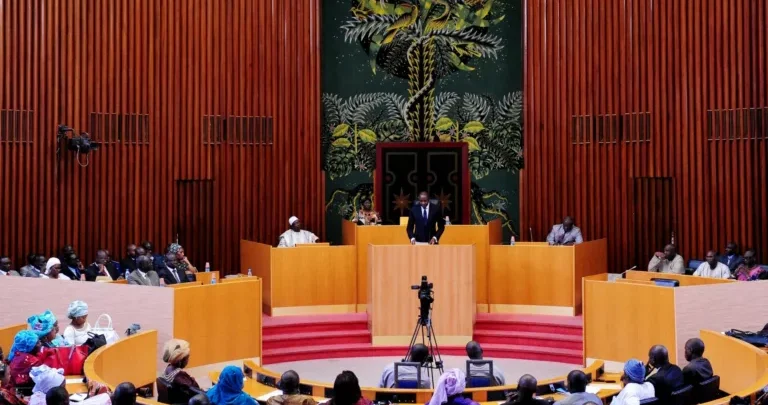 Two Senegalese opposition Members of Parliament (MPs) have been jailed for six-month Monday for physically assaulting a female colleague in the Parliament.
This ugly incident sparked angry reactions and triggered debate about democracy in Senegal, after pro-government legislator Amy Ndiaye was slapped and then kicked in the belly during a chaotic session in the National Assembly.
The culprits, Mamadou Niang and Massata Samb, were each given six-month prison terms after a trial that began on December 19, 2022.
Although prosecutors had sought two-year terms for the duo, they were each fined 100,000 CFA francs CFA ($150) and ordered to pay five million francs in damages.
The attack happened on December 1, 2022 during a routine vote on the justice ministry's budget. It was sparked by remarks Ndiaye had made about Serigne Moustapha Sy, an influential Muslim leader who supports the opposition but is not a lawmaker.
After order was restored, Ndiaye fainted and was given hospital treatment — her lawyer Baboucar Cisse said she was pregnant and there were fears she could lose her baby.
She has since left hospital but "remains in an extremely difficult situation," Cisse said.
The incident triggered a fierce debate about parliamentary discourse and attacks on women. It notably coincided with an awareness campaign against domestic violence.
During the Second Ordinary Session of the ECOWAS Parliament, that ended in December 2022, the Speaker Sidie Mohamed Tunis, condemned the assault and set up a committee to investigate the matter.
Senegal is widely viewed as a beacon of stability and democracy in West Africa — a region notorious for coups and dictatorships.
Legislative elections in July led to a virtual tie, requiring President Macky Sall's party to forge a coalition to stay in power.
Sall was elected to a seven-year term in 2012 and re-elected for a five-year tenure in 2019. He has not divulged his plans for the next presidential vote, due in 2024.
Niang and Samb, who were arrested on December 15, were not present in court.
"They are going to remain in prison pending an appeal," one of their lawyers, Abdy Nar Ndiaye, said.
The two indicted lawmakers have however, denied hitting the legislator, despite video evidence to the contrary.
Their lawyers argued the pair were immune from prosecution, given their status as lawmakers, but this was rejected by the court.