No public holiday one June 12- FG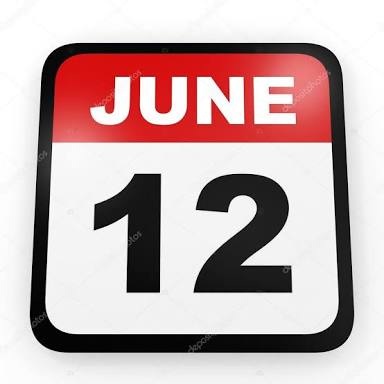 The Federal Government has announced that June 12 this year will not be marked as a public holiday following its declaration as the new Democracy Day.
In a tweet on Friday, the Federal Government said while it will not be marked this year, June 12 "in future years will replace May 29th as a national public holiday in celebration of Nigeria Democracy Day."
The President had made the declaration on Wednesday, in honour of the late businessman and politician, Moshood Abiola, who ran for presidency on June 12, 1993.
He also conferred a posthumous GCFR title on him as the presumed winner of the election.
NOTICE:
There have been questions regarding whether or not there will be a FEDERAL public holiday on June 12, 2018.
The answer is NO.
Presidential Order says June 12 "in FUTURE YEARS will replace May 29th as a National Public Holiday in celebration of Nigeria Democracy Day." pic.twitter.com/UsxrPRx28X
— Government of Nigeria (@AsoRock) June 8, 2018
In a tweet on his official handle, he explained why June 12 will replace May 29. He noted that June 12 is a more symbolic day.
Read Also: June 12 Declaration: Buhari Only Trying To Regain Lost Popularity – PDP Member
"Dear Nigerians, I am delighted to announce that, after due consultations, the Federal Government has decided that henceforth, June 12 will be celebrated as Democracy Day.
"We have also decided to award posthumously the highest Honour in the land, GCFR, to Chief MKO Abiola.
"In the view of Nigerians, as shared by this Administration, June 12, 1993, was and is far more symbolic of Democracy in the Nigerian context than May 29, or even October 1," his tweet read.