Stanley Ohajuruka, the Nza bird that has challenged his Chi to a wrestling match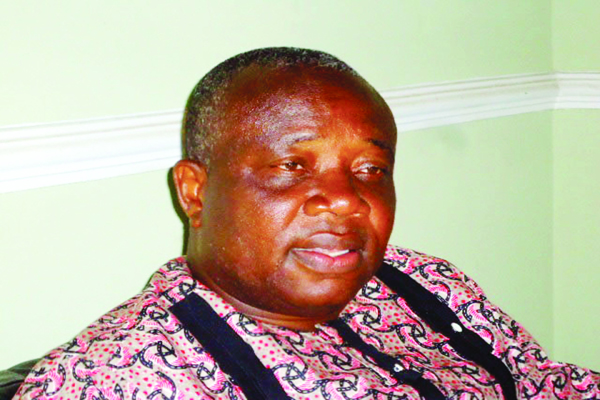 By Eddie Onuzuruike
Erratic political outbursts from Stanley Ohajuruka have sent me on memory lane. What used to be the demeanour of a hitherto promising young man and other early genial antecedents have become so incongruent with his present behaviour that I keep wondering how Stan became capable of such a despicable descent.
I know Stanley to be well brought up. His parents of blessed memory must be turning in their graves for Stanley's behaviour. They held the golden rules sacred and vehemently preached humility, gratitude and respect for elders but Stanley has cast all these away like a shipwreck, grabbing every available straw to be relevant with his hideous allies. I've equally weighted Stanley on 3 basic social scales and he failed critically in all three.
In Ibeku culture and tradition, humility and respect for elders is sacrosanct, that is why we attach the suffix Dede for males and Dada for females but he feels comfortable not sparing invectives on Senator T. A. Orji as if they are mates, forgetting that he, Ohajuruka, is scarcely older than Engr. Chinedu Orji, Senator Orji's first son.
By 1978 when Senator Orji left the famous University of Ibadan, Stanley was in his nappies. By the time he was catapulted to the house through the magnanimity of people he hardly remembers today, Ochendo had successfully gone through the rungs of the civil service. If Stanley's ridicules are based on truth or constructive criticism, that would have been forgivable and taken as an advice but they are lies and taunts, similar to the indiscretions of the proverbial Nza bird that Achebe wrote about in Things Fall Apart.
For the benefits of those not conversant with this anecdote, the Nza bird, one of the smallest birds bumped into a sumptuous meal one day and after having his fill challenged his "Chi" to a wrestling match: Chi is a personal god in Igbo cosmology that determines ones fortunes. The very odd thing about it all is that Stanley has drank so much from Orji's pot of benevolence and now ferociously quaking the pot. When OUK, the former Gov of Abia was embattled with impeachment scares from the house, he fought back and sent the members scampering in many directions. For these and more, the house witnessed a quick succession of Speakers and house functionaries. It was T A Orji, the stablest officer and longest serving Chief of Staff in the history of Abia State, that guaranteed Ohajuruka as speaker. The same former governor never trusted any of his deputies and so did not hand over to anybody on acting capacity during his frequent shuttles. Any in doubt should ask Sen. Enyi Abaribe who went through this horrendous experience. It was Senator Orji again that shored Ohajuruka to be made acting governor, an ego tripping experience that he flaunts in his CV till this moment. But he has forgotten all these in a hurry. It is not strange as enthused by Shakespeare in Julius Caesar: 'But it is a common proof that lowliness is young ambition's ladder whereto the climber upward turns his face. But when he attains the upmost round, he then unto the ladder turns his back, looks in the cloud, scorning the base degrees by which he ascends.'
The second scale is along the line of Christian doctrines of which Stanley was immersed from childhood by his parents. Christ while on earth taught too many lessons on gratitude and humility. The starkest one is the parable of the 10 lepers where one out of 10 came back to thank Him after curing them of an incurable disease. Christ acknowledged the one who came back to thank him but the other lesson there was a prognostication that many will disappoint as there were a greater number who did so in this circumstance.
It is equally ethically bad for our man to pick on his senior in legislation. In truth, Stanley was in Abia house and the house of representatives but has never been a Senator. Jokes have levels. It is certain that he is not alone in the game he is playing. From all indications, people are urging him in this new hobby of mischief, but he should introspect, questioning what those who are urging him to the edge of the cliff have done for him or achieved for themselves since they parted ways with T A.
Sen. T. A. Orji is not bothered about these taunts as they bump off his honour-plated body like rubber bullets. Daa Mabel of blessed memory, my uncle's wife philosophically observed that there is yet to be anybody admitted in the hospital for verbal insults. No doubt, it could be seen as a good job of a political juvenile, a dreamer of an upstart that has refused to grow up. But the truth is that Sen. Orji cannot be on exile in the National Assembly as alleged by Ohajuruka who tried the same stunt in an interview in the same paper on Tuesday, October 6th, 2015 where he denied that there are Legacy Projects. Senator Orji has over 12 bills to his credit, multiple constituency projects including scholarships and other interventions. He does not seen himself as a former Gov. Who has seen it all rather he takes keen part in all that his fellows are doing, including the oversight exercises that have taken him to Lagos and other cities of the country.
One of Ohajuruka's sponsors has watched his political fortunes slip through his fingers, struggling hard to be a Senator among other slippery quests. And Achebe comes in again cautioning that 'those whose palm kernels were cracked by benevolent spirits should not forget to be humble.'
Stanley himself has since after experienced near political accidents as his swift migration to all parties available including PPA, PDP, LP and all have come with untold loses in fame and finance. Against all these, Senator Orji, the eagle on Iroko keeps soaring in colourful plumages.