Orodo Ancient Kingdom fetes Madumere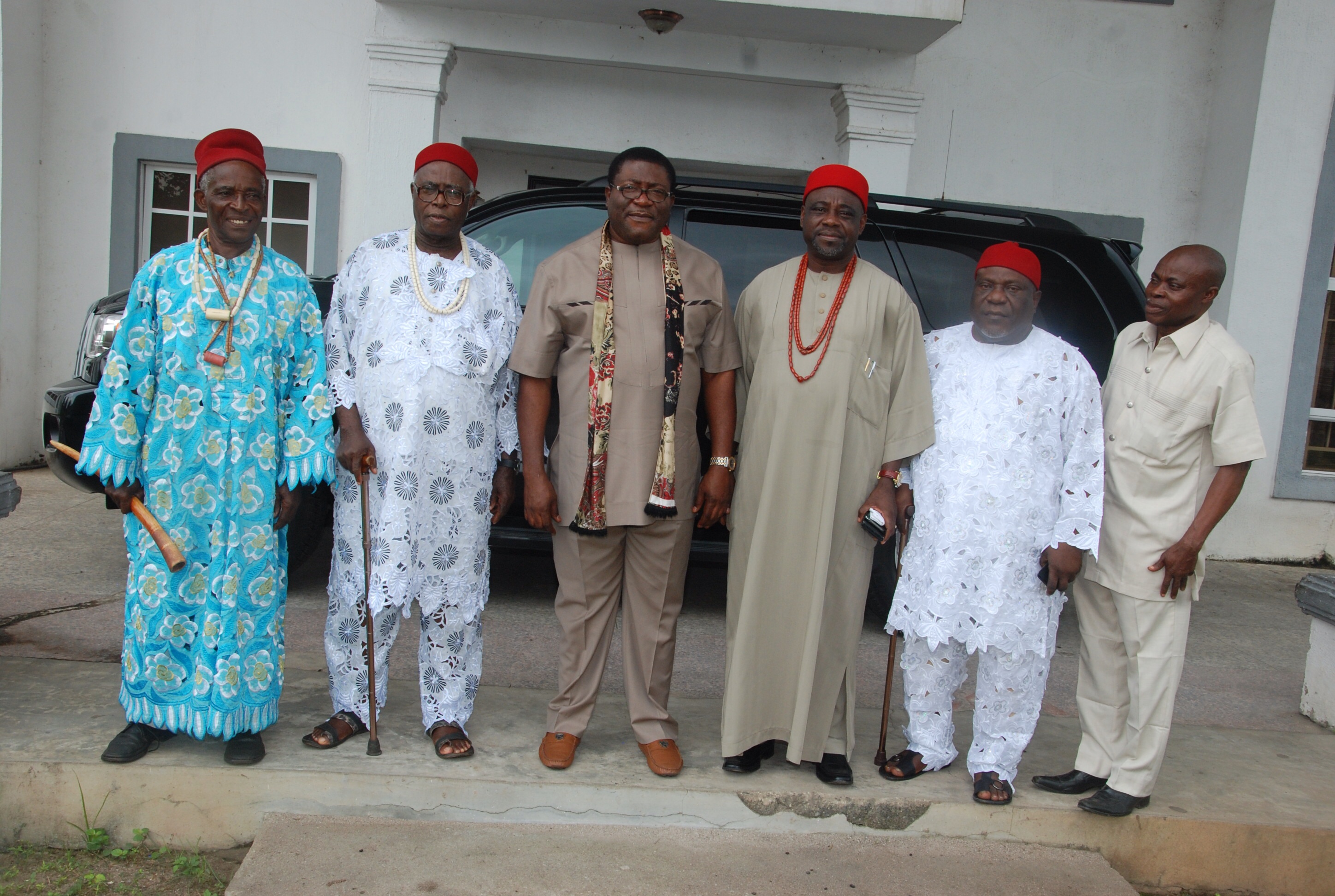 His Excellency, Deputy Governor of Imo State, Prince Eze Madumere flanked by HRM, Eze Samuel Agunwa Ohiri and other traditional rulers of five communities of Orodo in Mbaitoli LGA.
Joining numerous other well-meaning Imolites, the people of Orodo Ancient kingdom have congratulated Imo Deputy Governor Prince Eze Madumere on his 51st birthday and for the successful grand reception in his honour by Owerri Zone.
Speaking on behalf of the people, during a solidarity visit to Prince Eze Madumere yesterday, Chief Barr Abed Anyadike , said their aim of visiting is to first, congratulate Prince Madumere on his well-deserved victory with his boss in the last guber election.
He also said they had come to felicitate with him on his 51st birthday and the successful reception organized by Owerri zone in his honour where he was conferred with the title, "Ohamadike-Owerri zone".
While showering encomium on the number two citizen describing him as a man of integrity with humility of heart, he commended him and his boss, Owelle Rochas Okorocha for the way they have piloted the affairs of the State.
Barr. Anyadike who was the former Local Government Chairman of Mbaitoli local government revealed how Prince Madumere had helped people get things done including him even before getting into the government.
He therefore assured Prince Madumere of their total support at present and anytime they are needed just like their people delivered in the last election.
HRM, Eze Samuel Agunwa Ohiri who was present thanked Prince Madumere for being a great son who has become a role model and pride of Owerri zone and imo state in general. He also pledged the support of Orodo people to ensure he with Governor Okorocha have a smooth administration.
Addressing his guests, Imo Deputy Governor, Prince Eze Madumere thanked the people of Orodo Ancient kingdom for their solidarity visit. He used the opportunity to thank them for coming out en mass to vote in the Rescue Mission for the second term in office.
He promised not to let them down by ensuring that whatever is due them gets to them. He however particularly commended Eze Ohiri for always being there and for his encouragement and spirit of brotherhood.