Towards a Leadership Paradigm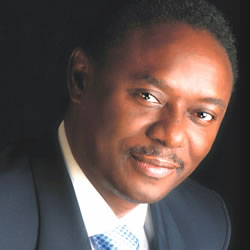 By Janet Bassey
The salient points made by the FRESH Democratic Party chairman, Rev. Chris Okotie in his syndicated article, titled , A Nation Under An Overwhelming Leader is all about a new leader who can shift the governance paradigm in 2015 after the wasteful years of our post-independence existence. Indeed, most of his commentaries have centered on this subject, which is really the centre point of Nigeria's problem.
From top to bottom, left or right, at whatever level you want to view it, this country is deficient in quality leadership. As if that was not enough, military regimes which came in to correct the ills of civilian governments they overthrew, performed even worse than the Administrations they supplanted. That is the irony of the Nigerian situation which began on a sad note barely six years after independence.
In January 1966, the Army announced its presence in the polity by staging the first coup, but it set off a chain reaction from which we are yet to fully recover. In fact, we are still suffering from the consequences of the military incursions into the political arena because power, once tasted by soldiers became a game of musical chairs among ambitious, and adventurous elites in the Armed forces. And their presence in the corridors of power is still unsettling the polity.
Rev. Okotie effectively summarizes our leadership conundrum in this way: "The ship of state under President Jonathan appears to be tottering, not knowing which direction we are headed. The year 2013 ought to be a critical year when his government should have set a new, long-term national agenda for the nation which could put us on a firm foundation in our second millennium stride from the end of January 2014, when our centenary anniversary would end, and the second millennium begins in earnest.
"The President has failed to seize on the rare moment to redefine his development agenda or inject new momentum to his programmes. Instead of attempting to breathe life into his failing Transformation Agenda, he is busy engaging opposition forces in his own party over a needless battle for 2015.
"A president that is driven by a positive vision could easily unleash a bust of creative energy in our youths, and move them away from destructive pass-times into productive enterprises. Instead of being counted with the criminal scourges of the world- Al-Qaeda, Al-Shabab and the likes, our youths should take their rightful place as leaders of a knowledge-based economy, a truly transformed Nigeria that could boast Fortune 500 entrepreneurs like China, India, Brazil and other emerging economies.
"Given the scope of our native talents, there's no excuse for us not to make Lagos the financial hub in the sub Sahara Africa like Singapore is to the East Asia corridor. The Nigerian food belt, if well cultivated and managed, could feed Africa for many years. To lay a true claim as the Giant of Africa, we, not the Western nations, should be giving food aid to drought-stricken, war-ravaged countries of the continent," according to the Pastor-Politician.
But that is not so because we are still under a cabal; an army of occupation which must willy nilly, be repelled and replaced by an army of compassion as ex-American President, George W. Bush called a truly progressive, representative leadership. So far, Nigeria has not had the fortune of having compassionate leaders at the helm of affairs. Rather, we have always been saddled with soldiers and politicians of fortune who come to power either by force or unfair, deeply flawed elections, which even some of the key beneficiaries like the late President Umaru Musa Yar'Adua, famously acknowledged in his maiden broadcast after his controversial election.
One thing is for elections to be rigged, another thing is for the people to allow the fraudsters exercise the stolen mandate. The military used the time-tested divide and rule tactics, based on ethnicity and religion, to frustrate the growing opposition to M.K.O. Abiola's stolen presidential mandate on June 12, 1993. The people failed to reject the governing cabal's conspiracy against Nigeria's most widely acclaimed, best organized election and allowed Abiola to die without claiming his mandate. The progressives seem to have learned some valuable lessons from that painful experience. Subsequent stolen mandates at the Governorship and legislative levels have since been reclaimed at the courts of law.
When the PDP-led Administration tried to disenfranchise a large chunk of voters by deregistering some 28 or so parties in which the large numbers of voters, including the Fresh Democratic Party, FRESH, the latter fought gallantly to reclaim its right to exist. Again, Rev. Okotie, the chairman of FDP, should be commended for showing the way by doing so much to defeat the Independent National Electoral Commission, INEC, in that landmark case. If FRESH had resigned to fate like most other parties did in the case under review, INEC could have escaped with its unconstitutional action.
That is one lesson we have learned from the Pastor-Politician, who consistently insists that the Nigerian people must hold their leaders accountable for their actions. Now, let me end this write-up on a sad note. The death of another human rights activist, Prof. Festus Iyayi, a former President of the Academic Staff Union of Universities, ASUU in an accident involving the convoy of Kogi State Governor, Idris Wada and the bus conveying him and his colleagues to the Kano chapter of the union where they were going to decide on the federal governments' proposal to the striking lecturers, was quite unfortunate.
Bassey wrote from Abia.