FEC holds Valedictory meeting…Buhari, Osinbajo, 44 Ministers Attend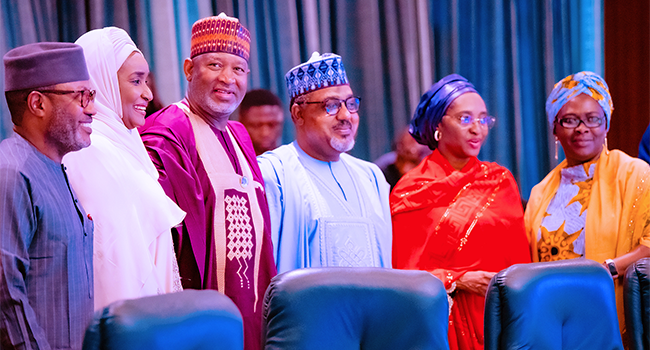 President Muhammadu Buhari on Wednesday chaired the valedictory session of the the Federal Executive Council (FEC) meeting at the Presidential Villa in Abuja.
The session, which was held at the Council Chamber, was attended in person by the Vice President, Professor Yemi Osinbajo, and all 44 ministers and ministers of state.
The President also swore in seven federal commissioners of the Revenue Mobilisation Allocation and Fiscal Commission (RMAFC).
Meanwhile, President Buhari has said he deliberately shut the country's borders to encourage food production in Nigeria. 
"I deliberately closed the borders because knowing Nigerians, they order rice, give some Niger address, and then they bring the rice here," he said at the event.
"With our land potential – we thank God Nigeria is favoured. We have people, we have land, and we have weather. How many nations are as lucky as Nigeria in the world? Very few nations are as lucky as we are! We thank God for that."
Continuing, he said: "So, closing that border – 1,600 kilometres from Lake Chad to Benin – and Nigerians insist they that they have to impress their neighbours and other people and they eat foreign rice. I said, 'No rice'."
"You eat what you grow or you die. I tried to make my point. Later Nigerians appreciated it because it provided more jobs," Buhari added.
"People got back to the lands – we have them– and we produced what we eat. Let whoever grows excess rice eat his own rice or sell it somewhere else