May 29 Handover: Nigerian military pledges loyalty to president, democracy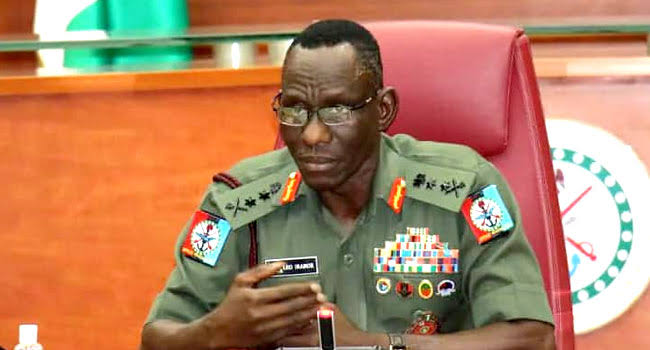 The chief of defence staff, Lucky Irabor, has reassured Nigerians of the military's commitment to the growth of democracy in the country and loyalty to the president and constitution.
Mr Irabor gave the assurance at the regimental dinner organised in honour of President Muhammadu Buhari on Tuesday night in Abuja as part of the activities lined up for the May 29 inauguration ceremony.
He added that the military, in collaboration with other security agencies, would stop at nothing to ensure the country was adequately secured as part of its effort to contribute to the development of the country.
The CDS, however, pledged the military's loyalty to the president and constitution as Mr Buhari bows out of office.
"Our determination to uphold democratic growth is rock solid. I assure you that the Armed Forces of Nigeria and other security agencies will consolidate all the successes recorded so far, especially on the ongoing counter-insurgency and anti-banditry operations across the country," stated Mr Irabor.
The defence chief also pledged that "we shall continuously and tirelessly strive to secure all that constitute Nigeria's wealth as our contribution to national development" and thanked "the president for gracing this occasion."
Mr Irabor added, "Your coming has boosted our morale. Consequently, I hereby reaffirm our loyalty to the president and the constitution of Nigeria as this administration rounds off."
Among the dignitaries at the event are Africa's richest businessman and chairman of Dangote Group, Aliko Dangote, ministers, past service chiefs, heads of security and intelligence agencies, other government functionaries, and some governors.
(NAN)