Shakhtar Donetsk Demands Apology from Barcelona over Russia Support Remarks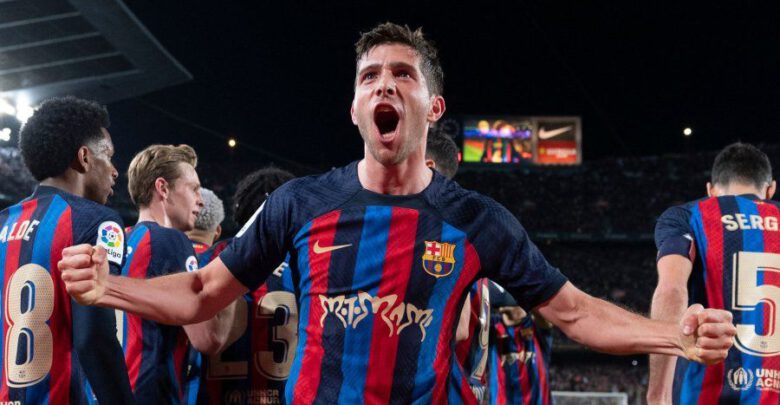 Shakhtar Donetsk, a Ukrainian football club, has expressed outrage at Barcelona following remarks made by players Alejandro Balde and Sergi Roberto. The Barcelona players thanked Russian fans for their support after winning the La Liga title, which has sparked controversy due to the ongoing conflict between Russia and Ukraine. Shakhtar Donetsk has demanded an apology from Barcelona, highlighting the inappropriateness of supporting Russia during this time and the devastating impact of the war on Ukraine.
Outrage and Demand for Apology:
Shakhtar Donetsk's chief executive, Sergei Palkin, voiced the club's outrage regarding a video message shared by Barcelona players Alejandro Balde and Sergi Roberto. The message expressed gratitude to Russian football fans for their support. Palkin emphasized that supporting a country like Russia at this time is entirely unacceptable and urged Barcelona to acknowledge their mistake and avoid similar situations in the future. The demand for an apology underscores the sensitivity of the ongoing conflict between Russia and Ukraine.
The Devastating War in Ukraine:
Palkin highlighted the severity of the situation, emphasizing that it is the second year of a bloody and unjustifiable military invasion by the Russian Federation on Ukrainian territory. He cited the destruction of cities, displacement of millions of people, and countless lives lost as a result of the conflict. The world has rallied behind Ukraine, condemning the invasion and standing in solidarity with the Ukrainian people. Palkin stressed that the priority should be protecting European values of freedom and democracy.
Global Support for Ukraine:
Numerous football clubs and players worldwide have shown their support for Ukraine in light of Russia's invasion. Polish striker Robert Lewandowski, for example, took to social media to express solidarity with Ukraine and even wore a captain's armband in the country's colors of blue and yellow. Shakhtar Donetsk aligns with this wave of support for Ukraine and finds the remarks made by Balde and Roberto to be inappropriate and insensitive given the ongoing conflict.
Barcelona's Response and Season Conclusion:
It remains to be seen how Barcelona will respond to Shakhtar Donetsk's demand for an apology. Currently, head coach Xavi and the team are focused on finishing the season on a strong note. Barcelona's remaining fixtures include matches against Real Valladolid, Mallorca, and Celta Vigo. While their attention is on on-field performances, addressing the controversy and responding to Shakhtar's demand will be crucial to maintaining a positive reputation and addressing the concerns raised.
Shakhtar Donetsk's demand for an apology from Barcelona highlights the sensitivity surrounding the ongoing conflict between Russia and Ukraine. The club expresses outrage over remarks made by Barcelona players thanking Russian fans for their support. As the war in Ukraine continues to have devastating consequences, Shakhtar Donetsk, along with many football clubs and players worldwide, stands in solidarity with Ukraine. The response from Barcelona and their commitment to addressing the situation will be closely watched as the La Liga champions conclude their season.