Newcastle Secures Champions League Spot with Goalless Draw Against Leicester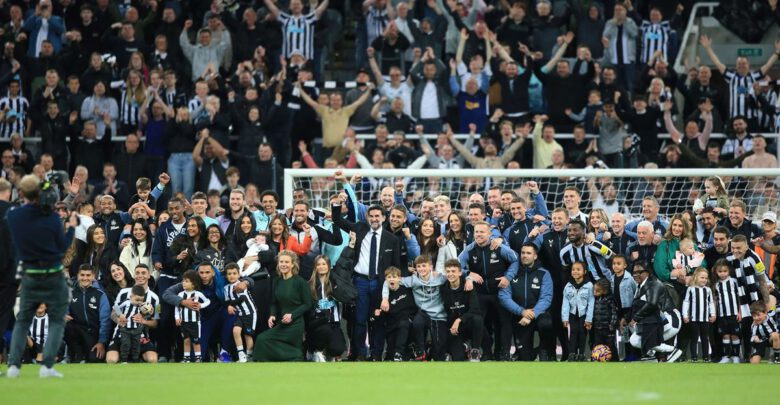 Newcastle United Football Club has secured a coveted place in the prestigious UEFA Champions League despite a goalless draw against Leicester City. The Magpies showcased their dominance throughout the match, relentlessly pressuring the Foxes and creating numerous scoring opportunities. Despite failing to convert their chances, Newcastle's solid performance ensured their return to the Champions League group stage after an arduous 20-year wait. The result sparked celebrations among the club's supporters, while Leicester's survival hopes were dealt a blow.
Newcastle's Dominance and Missed Opportunities:
From the opening whistle, Newcastle asserted their dominance, consistently keeping Leicester on the defensive. The Magpies launched an impressive total of 23 shots at goal, with Leicester goalkeeper Daniel Iversen forced into making four crucial saves. In contrast, Leicester struggled to create meaningful chances until the dying moments of the match. Newcastle's attacking trio of Alexander Isak, Callum Wilson, and Miguel Almiron were unfortunate not to find the net despite having multiple opportunities. Bruno Guimaraes came agonizingly close to breaking the deadlock with a header that struck the post from close range.
Late Drama and Shared Spoils:
Leicester's Timothy Castagne came close to altering the outcome with a late dangerous effort, but his attempt was thwarted by Newcastle goalkeeper Nick Pope. Ultimately, neither team could find a breakthrough, resulting in a goalless draw. However, it was Newcastle who emerged as the victors, securing their place in the Champions League for the upcoming season.
Wilfried Ndidi's Resilient Performance:
Leicester midfielder Wilfried Ndidi showcased an outstanding performance, playing a crucial role in keeping his team level. Ndidi's strong tackles and an incredible goal-line clearance denied Newcastle's Callum Wilson a sure goal. His stellar display provided a glimmer of hope for Leicester's fight to avoid relegation from the Premier League.
Near Miss and Newcastle's Relief:
Newcastle's Bruno Guimaraes faced an early scare when he caught Boubakary Soumare with a high boot challenge, resulting in a yellow card instead of a potential red. The Brazilian midfielder nearly turned the game in Leicester's favor when his close-range header struck the post. Fortunately for Newcastle, luck was on their side as they held on to secure the desired result.
Looking Ahead:
With their Champions League qualification sealed, Newcastle can approach their final game of the season against Chelsea with confidence and a sense of accomplishment. Meanwhile, Leicester faces an uphill battle, needing a victory against West Ham and Everton's loss on the final matchday to ensure their Premier League survival.
Newcastle United's goalless draw against Leicester City may not have produced a spectacle in terms of goals, but it proved to be a significant milestone for the Magpies. Securing a place in the Champions League after a 20-year absence is a remarkable achievement that has reignited the spirits of the club's supporters. Despite the missed opportunities, Newcastle's dominant display showcased their determination and ambition. Meanwhile, Leicester must regroup and focus on their remaining matches to salvage their Premier League status.