Two persons on way to hospital die as motorcycle rams into stationary truck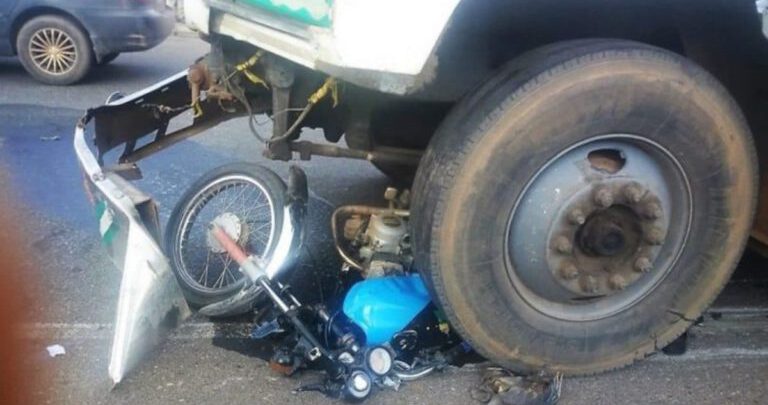 A commercial motorcyclist conveying a passenger to the hospital crashed into a stationary truck at dawn on Wednesday. The rider and his passenger died from the accident.
The accident, which occurred at 5:45 a.m., on the Airport Road, Oba-Ile in Akure North Local Government Area of Ondo State, later attracted motorists, commercial motorcyclists and passersby who gathered to mourn the loss.
A source, who did not want his name mentioned, said that a truck owned by a block-making industry broke down beside the road two days ago, but was not moved.
"The commercial motorcyclist who was coming from the Oba-Ile axis and going to Akure with full speed hit the stationary vehicle," the source said.
Another source said that the commercial motorcyclist came to Oba-Ile from Akure to convey a passenger, who was ill, to the hospital before the tragedy occurred.
"The commercial motorcyclist was one of our colleagues living in Akure. He came to pick a brother, who had been sick for some time, to the hospital.
"The motorcycle did not have any lights and the rider only used a touch to illuminate the darkness before the accident happened
"The commercial motorcyclist and his passenger died on the spot after hitting the truck in spite of the 'C caution' and some blocks placed on the road" the source said.
Olufunmilayo Odunlami-Omisanya, the police spokesperson in Ondo State, who confirmed the incident, said that the corpses had been deposited at the morgue at the specialist hospital, Akure.
Mrs Odunlami-Omisanya advised motorists to always exercise caution whenever they were behind the wheels.
"What happened was that the stationary vehicle was parked on the roadside because it had a mechanical fault. It was the commercial motorcyclist that ran into the vehicle.
"Everybody needs to be careful. I cannot, however, confirm whether the motorcyclist was at high speed or not," the spokesperson said. (NAN)