16 Health Benefits of Alligator Pepper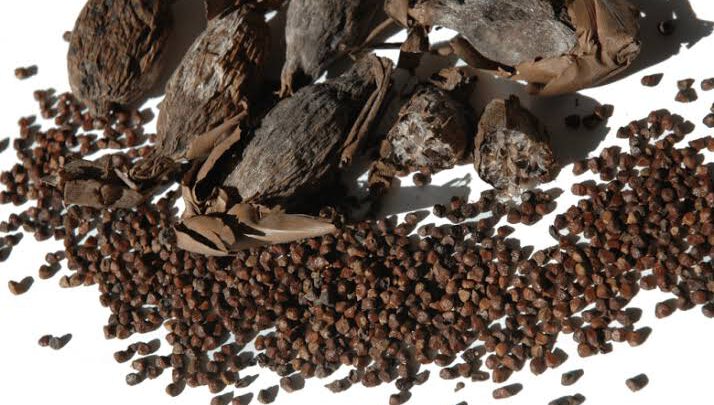 Alligator pepper is a gift of nature and serves different purposes to different people. It is served with cola nuts so that the guests can entertain themselves. It is also a common ingredient in pepper soup, a spicy delight in most of western and Asian and Africa.
However, since ancient times, alligator peppers have been used in traditional medicine to treat many diseases. The alligator pepper plant also has both medical and nutritional values, and the extracts of its seeds have been used as an antidote against many diseases.
1. Anti-oxidizing Properties
Alligator pepper seeds are an excellent source of phytonutrients such as terpenoids, alkaloids, flavonoids, tannins, cardiac glycosides, saponin and phenolic compound. They scavenge for free radicals and offer protections against viruses, allergens, microbes, platelet aggregation, tumors, ulcers and hepatotoxins (chemical liver damage) in the body.
2: Treatment of Gastrointestinal Disorders
The seeds extracts of the alligator pepper can be used for treating gastrointestinal disorders such as stomach pain, diarrhea, ulcer and intestinal worms.
3:. Wound Healing
The seeds can be crushed and used for preparing concoctions for treating and healing wounds. Alligator pepper contains a high amount of tannin that is distinguished by its stringent property and as such it is very effective for healing wounds, treating burns and soothing inflamed mucous membrane.
4;. Antimicrobial Properties
The seed extract has antimicrobial properties due to its constituents of phenolic compounds that are normally used as disinfectants. Studies reveal that alligator pepper extract is broad spectrum and as such has inhibitory effect on the growth of bacteria such as Salmonella typhi, Staphylococcus aureus and Klebsiella pneumonia etc.
5:. Aphrodisiac Properties
Studies reveal that the alligator pepper is aphrodisiac in nature thus can be used for stimulating sexual desires.
6:. Anti-inflammatory Properties
The seed has anti-inflammatory properties due to its constituent of gingerol that inhibits the leukotriene and prostaglandins synthesis. It offers protection against inflammation of the body.
7:. Analgesic Properties
The aqueous extract of the plant is analgesic in nature and as such can be used for relieving and alleviating pains such as joint pain, toothache, stomach pain, arthritic pain and rheumatoid pain.
8: Dermatological Care
Alligator pepper can be used for preparing herbal remedy for treating infectious skin diseases such as measles, chickenpox and smallpox.
9:. Stimulating Properties
Due to its stimulating properties and peppery pungent taste, the alligator pepper is normally chewed as a stimulant to keep the body alert.
10:. Malaria Treatment
The leaves are used for preparing herbal medicines for preventing and treating malaria.
11:. Digestive Properties
The seeds aid easy digestion of food thereby preventing constipation and bloating.
12:Good for fibroids elimination
There are many herbs and plants used to combat the appearance of fibroids and eliminate them completely naturally. Alligator pepper is surely one of the most beneficial ones. It will allow liver detoxification and help eliminate and prevent fibroids.
A special blend of castor oil plant (Ricinus communis), alligator pepper (Aframomum melegueta), coconut (Cocos nucifera) and West African black pepper (Xylopia aethiopica) has been validated by researchers to shrink and eliminate fibroids.
A professor of Epidemiology and natural medicine and Chairman Oyo State of Nigeria Advisory Board on Traditional Medicine, Prof. Dayo Oyekole, said special blend of castor bean, alligator pepper, ginger, coconut, and Xylopia aethiopica could be used to successfully shrink and remove fibroid growths.
13:Lowers blood sugar
Alligator pepper is one seed individuals with diabetes might find very good in ensuring the regulation of their blood sugar, thus protecting them from complications of the disease such as blindness and limb amputation.
Surprised that alligator pepper has multipurpose? The medicinal uses of alligator pepper dates back into ages and recently scientists in a new study corroborate its usefulness in lowering blood sugar under laboratory conditions. Researchers in ascertaining the blood-sugar lowering effect of alligator pepper had 25 albino rats that were randomly divided into five groups of five rats each. Two control groups: non-diabetic (positive) and diabetic (negative) were administered tap water as vehicle solvent, throughout the duration of the experiment. The remaining three groups received 100 mg/kg of metformin (a diabetes drug) 200 and 400 mg/kg orally and aqueous seed extract of alligator pepper respectively and simultaneously.
The researchers, who evaluated the fasting blood glucose in these rats daily, found that oral administration of aqueous extract of alligator pepper to diabetic rats lowered blood glucose to normal level within six days of administration, while metformin took 14 days. There was no significant difference in the duration of lowering the blood glucose by the two doses of extract administered, meaning that the effect was not dose dependent.
Meanwhile, for diabetes that patronises alligator pepper, they would also be protected against common infectious diseases. The extracts of its seeds has been used for years in the treatment of infectious diseases as well as in the treating wounds and prevention of infections. In a study, researchers also tried to ascertain the potency of its extract in the prevention of many common disease-causing germs which include Bacillus cereus, Staphylococcus aureus, Escherictaia coli, Salmonella typhi and klebsiella pneumonia. These includes germs that causes food poisoning, pneumonia, blood infections and other deadly diseases. The study was carried out by Doherty, V. Funmilayo in collaboration with Olaniran, O.Oluwakemi both form the Yaba College of Technology, Lagos was entitled "Antimicrobial Activities of Aframomum Melegueta (Alligator Pepper)"and published in the July, 2010 issue of the International Journal of Biology.
The study found that the seed extract of alligator pepper inhibited the growth of all the bacteria tested, suggested that the plant extract has broad spectrum in activity (acts against a wide range of disease-causing bacteria). Higher antimicrobial activity of the extracts was observed on E.coli, Klebsiella spp and Salmonella spp at high concentration. That alligator pepper was able to halt multiplication of the virus in the laboratory is of great implication as it portends the possibility of giving the human body a chance to fight off disease-causing germs. .
14;Alligator Pepper May Provide Next Weight Loss, Energy-Boosting Drug
Can regular intake of alligator pepper be the next best fastest and safest way to shed weight, burn body fats, boost energy levels?
JAPANESE researchers have discovered more novel applications for alligator pepper.
The researchers in a study published recently in the British Journal of Nutrition tested the traditional West African herbal remedy and found that it increases thermogenesis and stimulates brown adipose tissue loss.
Thermogenesis is the process of heat production in organisms. It occurs mostly in warm-blooded animals.
The research comes from Japan's Tenshi College School of Nursing and Nutrition. After significant laboratory testing on the medicinal herb called alligator pepper inclusive of breaking down its primary active constituents, the researchers tested the herb on 19 healthy young men.
The researchers tested the 19 men for body fat content, energy expenditure and thermogenesis using positron emission tomography (PET) scans.
A PET scan uses radiation, or nuclear medicine imaging, to produce 3-dimensional, color images of the functional processes within the human body.
The thermogenesis testing included submitting the subjects to a cold environment for two hours while testing their energy output.
After gaining baseline levels, the researchers gave an extract of a seed or a placebo to the 19 men for four weeks, and then crossed the group over to test the placebo group with the herbal extract.
The researchers found that the extract resulted in a significant increase in energy expenditure and loss of brown adipose tissue – fatty tissue known to be difficult to reduce. They also found that energy expenditure increased within two hours of the subject receiving the extract, while the placebo group showed no such increase.
The research, published in the British Journal of Nutrition, means that alligator pepper may be a significant weight loss aid. Brown adipose tissue can be difficult to reduce for those wanting to lose weight because it receives significant circulation. Some refer to brown fatty tissue as "baby fat."
15:Sperm booster
In a study carried out on alligator pepper, researchers at the University of Lagos report it to be a sperm booster.
Also, the Nigerian Natural Medicine Development Agency (NNMDA) says that chewing alligator pepper improves sperm count while the leaf juice improves female fertility and regulates and regulates menstrual flow
16: Alligator pepper acts as a worm expellant, stimulant and diuretic ( it increases urine production) as well as useful in the treatment of measles, leprosy and excessive bleeding after child birth
Side Effects of Alligator Pepper
There are no recorded side effects of the alligator pepper however pregnant and lactating mothers are encouraged not to consume it based on the following reasons;
An experiment by Inegbenebor et al., (2009) show that high dosage of alligator pepper administered to pregnant rats led to termination of their first trimester pregnancies. Based on this report, pregnant women in their first trimester are highly recommended to refrain from eating the alligator pepper in other to avoid miscarriages.
Uloneme et al., (2014) agree that lactating mothers should avoid taking alligator pepper in high quantities as it can reduce the prolactin secretion. Prolactin is a hormone released from the pituitary gland that stimulates milk production after childbirth. (Copied).