Hon Onyekehi Bags Most Proactive Excellence Special Adviser's Award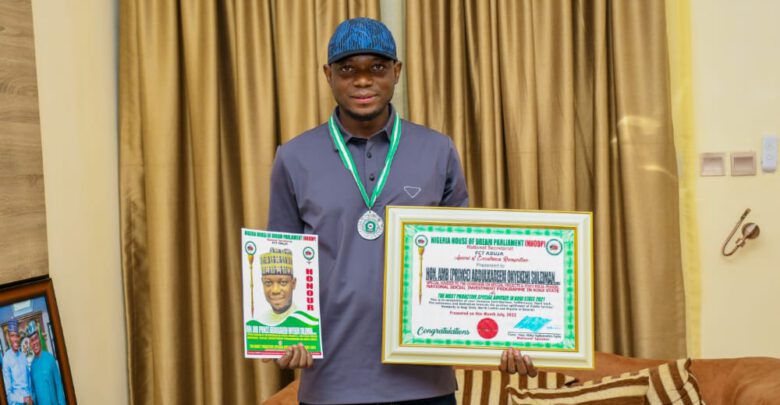 From Joseph Amedu, Lokoja
The Nigeria House of Dream Parliament (NHODP) has bestowed an Award of Excellence and Recognition on the Special Adviser to Governor Yahaya Bello, on Special Projects, Hon Suleiman Abdulkareem Onyekehi, as the "Most Proactive Special Adviser".
The National Speaker of Nigeria House of Dream Parliament, Comrade Mike Egila, with the Principal Officers of the Parliament, jointly presented the award to the recipient in Lokoja over the weekend.
Egila noted that from their research Onyekehi had ensured proper coordination of National Social Investment Programme (N-SIP) and judicious utilization of funds for the sensitization and implementaton logistics as well as prompt payment of SIP staff.
He noted that the recipient had also facilitated about 60,000 registration of intending beneficiaries into GEEP 2.0, added to the over 50,000 beneficiaries of GEEP 1.0 in Kogi State.
"Facilitated the increase of Cash Transfer beneficiaries in Kogi from 11,000 to over 74,000; over 26,000 NPower Batch C Steam 1 and 2 as against the 12000 that benefited the NPOWER Batch A and B and over 177,000 primary school pupils, 3000 cooks, thousands of small holder farmers, traders are benefiting from home grown school feeding.
"Distributed and installed 156 computers, projectors, tables and chairs in Six Federal and State Government Science Secondary Schools in kogi state under STEMBURSARY program,' Egila said.
He added that through NSIP over N20 billion has been injected into Kogi economy by federal government in partnership with the state, directly to the beneficiaries under his supervision.
He stressed that the NSIP Kogi State under his supervision had been rated consecutively as the best NSIP Office in Nigeria by the Federal Ministry of Humanitarian Affairs.
He described Onyekehi as a proactive and community developer, a philanthropist, reformist and dedicated to duties and assignment with transparency and accountability, saying the award was to encourage him to do more.
Responding, Onyekehi who doubles as the Kogi State Focal Person of National Social Investment Programme (N-SIP), thanked the Parliament for considering him feat for the award.
According to him, this will again encourage me to do more in discharge of my duties with accountability and transparency in line with the open governance agenda of New Direction administration of Governor Yahaya Bello.
"I have received several of similar awards by various independent bodies, Federal Ministry of Humanitarian Affairs, Students Associations, NGOs, Entertainers, others and this recognition means alot to me.
"I dedicate this award to Governor Yahaya Bello who gave me the rare privilege to serve the good people of Kogi State in sensitive portfolios for state and federal special projects and programs, which includes Multilateral and Donor Agencies engagements as well as Supervision of National Social Investment Programme.
"On behalf of myself, family and entire management staffs of NSIP Kogi State, I sincerely appreciate Comrade Mike Egila and your entire Principal Officers and all members of the Parliament," Onyekehi said.