FACES OF IGBO POLITICIANS OPPOSED TO IGBO PRESIDENCY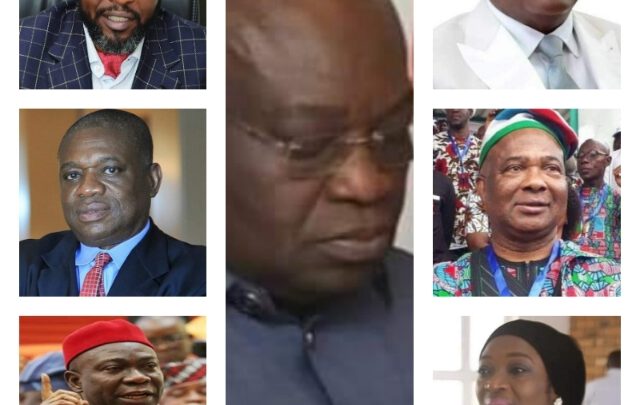 By Steve Osuji
THE BAD RAT SYNDROME: These are not the only ones of course, but they have been the most vociferous. The very thought of a Nigerian presidency of Igbo extraction seems to churn their stomachs.
Not because it's not a desirable proposition but for the mere fact that they are not the ones gunning for it. This seems to be be the most plausible reason why they have been vehemently opposed to what the entire Igbo nation craves for…
It's called the 'bad rat syndrome'. Why would a house rat make a mess of a bag of grains by soiling it and dicing up the grains to bits? Why would a rat chew up vital documents kept safely in the house? Papers are not exactly the most delicious delicacies for rats…
It's also called bad belle in street parlance. If I can't have it, I will ruin it.
OUR TURN, MY TURN: Unfortunately, this is the negative passion that seems to have gripped major Igbo political elite in the run up to the 2023 presidential elections.
While Ndigbo generally and Ohanaeze in particular, have clamoured to see an Igbo occupy the number one position in the land in 2023 which is considered the most opportuned time, some natives want to thwart the effort.
The baton had passed round the major ethnic groups down to even the minority. There are tacit agreement and understanding by all that it's indeed the turn of Ndigbo. The other nationalities already bear a burden. Equity and justice demands that Igbo should take the next turn.
POOR, POOR, ELITE: But the current political elite of Ndigbo have proved to be unprepared and intelligent by half. They have proven to be bereft of group think and wisdom. In spite of the best efforts of Ohanaeze Ndigbo, top political elite like governors, legislators and serving appointees mainly fell on their faces at the critical moments.
History has already recorded them as individualistic, selfish and unstatesmanlike. The recently concluded primary elections in the two major parties have thrown most of them up as mere opportunists and interlopers who have scant understanding of their leadership positions among their people and their place in the national scheme of things.
While we saw the north rally at the critical hour to secure the results they desired (Tambuwal and Atiku) and the southwest did the same during the APC primary, southeast leaders in the two instances came to the party unprepared like the fabled foolish maidens.
NO SHAMEFACE, NO LESSONS LEARNED: If you thought some lessons would have been learned from their foolish outing during the primaries, nothing was learned apparently. Their next line of action has been to attack and denigrate Peter Obi who managed to safe the face of Ndigbo by making the wise move to a fringe Labour Party in the face of a gang up against him and Ndigbo in the PDP.
IS PETER OBI AND LABOUR PARTY IGBO PROBLEM? The bile and bitterness being exhibited by some of these so-called Igbo leaders would make you wonder if Obi or his Labour Party have become enemies of Ndigbo.
Orji Uzor Kalu, the Senate Majority leader, from the outset, chose to play key muckraker role against Igbo presidential interest. In a turn of maniacal self-interest, he started a movement to return power back to the north. On a woolly, half-assed logic that if not Igbo, let it return to the north, he championed the aspiration of Ahmed Lawan, Senate president. Of course OUK was about enlightened self interest. He never gave Ndigbo a chance, he never rallied the people he supposedly lead to any form of consensus. In fact, he was a reproach and a disgrace to Ndigbo through the entire primaries process.
GOVERNOR DAVE UMAHI of Ebonyi State is the current chairman of the Southeast Governors Forum. But the body has become moribund under him. In fact, since Peter Obi left as chairman of the body some years back, southeast governors hardly meet anymore. Umahi as leader of our governors, working with Ohanaeze, would have been the rallying point for the Igbo cause.
But Governor Umahi was too distraught and distracted to think straight. He was outright megalomaniac about his presidential ambition and was therefore running kitikiti and katakata and could nary have a soothing drink of water. Most disturbing, he could have handed the entire Ebonyi State to any northerner who promised to maked him president. And he handed out a chunk, but unfortunately for him, to conmen and impostors who left him high and dry. And that's not a metaphoric statement.
There's no gainsaying that Umahi failed spectacularly as an Igbo leader when the people needed him most.
He was however, first to rile at Ohanaeze and Peter Obi after his debacle. Ebonyi State would not vote Labour Party and Peter Obi, he fumed. One would think they were the source of his woes.
IKE EKWEREMADU, a few years ago, was the shinning star of the east. One of the longest serving senators in Nigeria having been in the chamber a consecutive 5th time. He was also deputy Senate president. One would expect a huge clout from such a high profile but no.
Ekweremadu sought to be governor of Enugu State during the last PDP primary but failed spectacularly.
Apparently, his burrowing into the ground from his high pedestal in search of governorship position must have disoriented him much. He ought to have been in the vanguard of the Igbo cause but got lost in the guber muck.
When he managed to extract his head, all he seemed to see was Peter Obi and LP galloping ahead and he raged at then: " I can assure you that Ndigbo would vote for PDP, Igbo would not throw their vote away by voting a Labour Party that will never win," he opined.
If an Igbo could never win the presidency as he said in an interview, you would think he would gun for the running mate position in the PDP. Instead he tells us that Governor Ifeanyi Ikowa who got the slot "is one of us" and he would explain to Ndigbo why they have to vote PDP! And pray, what happens to Igbo presidency now and tomorrow?
A classic self-serving Igbo elite tactic. It's about the same situation with all the other Igbo leaders who now seem to have a pastime of trying to pull Obi and the Labour party down. From Jim Nwobodo to Senators Stella Oduah and Uche Ekwunife. All the southeast governors: Okezie Ikpeazu, Ifeanyi Ugwuanyi, Hope Uzodinma and Umahi, none have accorded Obi courtesy, except Chukwuma Soludo.
In fact, during his meetings with delegates as a PDP aspirant, none of the southeast governors was civil enough to receive Peter Obi when he visited their states. Such is the animosity Igbo kith are showing another apparently for daring to contest for president of Nigeria. Another source of bile is that Peter Obi will not play by their old rule. OBI WILL NOT SHARE MONEY!
OBASANJO PASSED THIS ROUTE: There's however, a precedence in President Olusegun Obasanjo's ascendancy to power in 1999. The same way he was shunned and held in disdain by the elite of his zone. But he won the election all the same. Obi stands a better chance as the youth of Nigeria who desire a better deal are all for Obi. The mass of Nigerians have elected to make a mass movement of Obi's Labour Party.
This column prays that God would spare the lives of Obi detractors that they would stay alive to see him become president of Nigeria, with or without them!