Reject Buhari's Fresh Request Of $4bn, €710m Loan, SERAP Urges Lawan, Gbajabiamila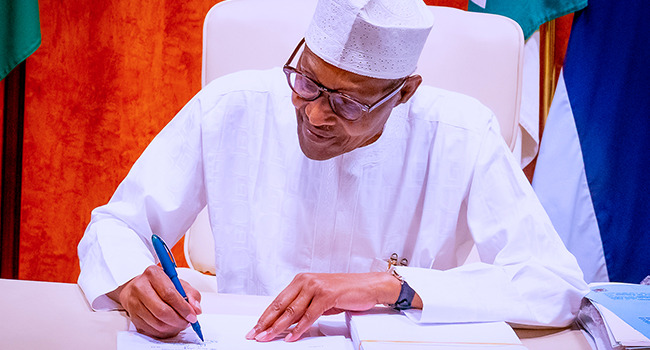 The Socio-Econom­ic Rights and Ac­countability Project (SERAP), a rights group, has urged the Senate President, Dr. Ahmad Lawan and Speaker of House of Rep­resentatives, Femi Gbajabiami­la, to reject the fresh request by President Muhammadu Bu­hari to borrow $4 billion and €710 million until the publica­tion of details of spending of all loans obtained since May 29, 2015, by the government.
Recall that President Buhari recently sought the approval of the National Assembly to bor­row $4,054,476,863 billion and €710 million, on the grounds of "emerging needs." The request was contained in a letter dated August 24, 2021.
SERAP, in a letter dated September 18, 2021, and signed by its Deputy Director, Ko­lawole Oluwadare, expressed "concerns about the growing debt crisis, the lack of trans­parency and accountability in the spending of loans that have been obtained, and the perceived unwillingness or inability of the National As­sembly to vigorously exercise its constitutional duties to check the apparently indis­criminate borrowing by the government."
SERAP said: "The Nation­al Assembly should not allow the government to accumu­late unsustainable levels of debt, and use the country's scarce resources for stagger­ing and crippling debt service payments rather than for im­proved access of poor and vul­nerable Nigerians to basic pub­lic services and human rights."
According to SERAP, "Ac­cumulation of excessive debts and unsustainable debt-servic­ing are inconsistent with the government's international obligations to use the country's maximum available resources to achieve progressively the re­alisation of economic and so­cial rights, and access of Nige­rians to basic public services."
The letter read in part: "The country's public debt has mushroomed with no end in sight. The growing national debt is clearly not sustainable. There has been no serious attempt by the government to cut the cost of governance. The leadership of the Nation­al Assembly ought to stand up for Nigerians by asserting the body's constitutional powers to ensure limits on national debt and deficits.
"SERAP urges you to ur­gently propose a resolution and push for constitutional amend­ment on debt limit, with the in­tent of reducing national debt and deficits. This recommenda­tion is entirely consistent with the constitutional oversight functions and spending pow­ers of the National Assembly, and the country's internation­al anti-corruption and human rights obligations." Daily Independent.