Fault-finding to the limits by the Abia Non-Professionals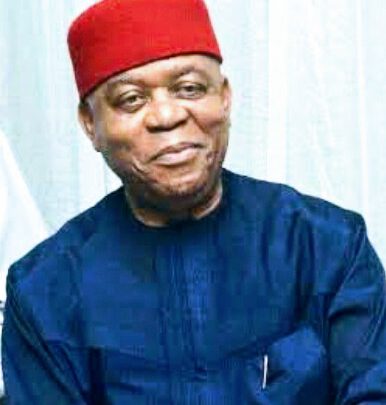 By Eddie Onuzuruike
The blackmail of a group that calls herself Abia Professionals has come to our notice and we are sure that they are anxious to be noticed.
Their grouse is that Senator Orji, [Ochendo] did not participate in the ill-fated July, 16 vote where electronic transmission of electoral votes was voted against.
There may not have been need for Sen. Orji to react to these baseless grumbles if not for the respect and loyalty to his constituents, especially those who may by default be hoodwinked into believing the tantrums of the faceless Abia Professionals. From the look of it, many of the assumed signatories were not consulted before using their names in this smear campaign. It is well known that the PDP nationwide took a stand on the issue and in a meeting urged all PDP Senators in the national Assembly to vote in favour of Electronic transmissions of all votes cast wherever in the country.
In line with the activities of such nature in the Assembly, a date was fixed, but the leadership of the Senate thought differently and did not honor the date fixed earlier.
Before the later date, Senator Orji had already given his consent to an invitation by one of his ardent followers, Hon Darlington Nwokocha, the Hon Member representing Isiala Ngwa North and South Fed Constituency who among multiple projects named the legislative hall that he constructed at Isiala Ngwa South LG HQ, after Sen T A Orji.
Sen Orji was live cutting the tapes and making speeches in Isiala Ngwa. All who attended and others following the trends are fully aware of Senator Orji's penchants for attendance to events and his zeal in shoring up followers and providing for his people and all around him.
Come to think of it, Sen T A Orji has given a good account of himself since the legislative assignment in Abuja. Take a look at these.
In the 8th senate he sponsored a total of 13 bills including the Food Security bill,  checking of illegal and reckless blasting of Rocks in Abuja, the AIB bill on investigating Air Accidents which got the concerned bureau on the foot to investigate  air accidents as to forestall repeated occurrences.
Two years in the 8th Senate, he was spotted by The daily Trust Newspapers for high performance. One year in the 9th senate, he was tops again with the highest number of bills among the former governors category in the Senate
After the second year, he came up again with the highest no of bills, scoring 57.87%  of the total bills sponsored by Abia Senators in the Senate. Facts are sacred, any in doubt should crosscheck the records.
All citizens can attest to the effectiveness of NCDC that came into existence due to his bill on the same agency and did much to arrest the spread of Covid 19.
If viewed further, the constituency projects are in high numbers alleviating hard conditions and ameliorating situations that would have been chaotic and fatal if unchecked.
Since 2016, he has embarked on annual scholarships in which over 300 students are happy beneficiaries all equally drawn from the six LGAs that make up Abia Central. Added to these are the free Eye Hospital  and Surgeries Center at Ohafia Street, Umuahia Abia State, that has conducted more than 1000 free examinations and surgeries on people living in Abia, whether they are constituents or not. Still touched by health issues, hundreds have been screened for Blood pressure related ailments and diabetes where instruments for monitoring the silent killers are doled out.
The question of his stance on electronic transmission of votes shouldn't even arise as he has been in the forefront of taking scientific modes seriously. For a man who constructed and furnished an E-library for Abia State in 2013/2014, what wouldn't he do for votes to count? His absence from the exercise in the Red Chamber couldn't be anything else but genuine as he never faltered with anything he sets his hands on. Recall his 29 years in the civil service where he was never given a Query or indicted by any inquiry, the cumulative results that pushed him up as the Chief of Staff from 1999 to 2007.
As it is said, talk is cheap! The Abia Professionals should look elsewhere for victims. If they insist, they should adopt Senator Orji's penchant for diligence, fairness and equity now proven beyond reasonable doubt and globally acknowledged.