Why Gen. Burutai should be sacked and prosecuted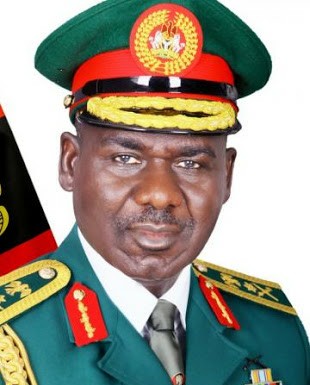 By Justus Nwakanma
In this season of despair and discontent, nothing has ever evoked such anguish and dysphoria or provoked pique and umbrage in me than the slaughter of 43 rice farmers in Borno on Saturday. Not even the shooting of EndSARS protesters at the Lekki toll gate.
The sight was grim and gory. The scene not fouled in fickled exaggeration. The environment portrayed the horrid, lurid profile of a murderous and slaughterous nation; a country whose citizens have been placed on the stealthy throes of decline and death by a government that should protect them.
Where and how can we mourn men, women and children who became victims of a war they did not cause?
"Your Excellency, as you have seen here, 43 corpses were buried, but others have not been retrieved from the scene of the incident. Nobody can tell the exact number of people killed. Some of the victims are still missing," a resident was quoted as telling Governor Babagana Zulum.
Forty-three Nigerians slaughtered in a day in Zabarmari, a rice-farming community in Jere Local Government Area, Borno State; their throats slit as if they were chickens prepared for a feast? Yet, all we could get was a letter of lamentation from the commander-in- chief and our beloved President. His message was devoid of empathy and congeniality but denuded with evasive emptiness.
"I condemn the killing of our hard-working farmers by terrorists in Borno state. The entire country is hurt by these senseless killings. My thoughts are with their families in this time of grief. May their souls rest in peace."
That is more like a trademark, the turning of mourning into a hobby.
That Nigeria is still calm; that everybody is going about his businesses after this mass murder, means that our conscience as a nation is dead. But how long can we continue to suck the blood of our innocent citizens? How many condolence messages should a President write in a week, in a matter he has the power and the means to change?
How long can we endure this and continue to pretend that all is well.
In 2015 the administration of President Mohammadu Buhari rode to power on the back of its vowed commitment to end Boko Haram. Nigeria was on the edge. Trepidation and fear were rife. Insecurity was the biggest challenge that put a kybosh on national economic growth and development. Hopes were raised. But today, all of that has become an anti-climax.
The Boko Haram that this administration said it technically decapitated has grown once again to become a monstrous contraption, more daring and enduring than before. It would be foolhardiness for anyone to believe that the war on insurgency is being won.
Since 2015 when he was appointed Chief of Army Staff, General Tukur Burutai has repeatedly assured that the war against insurgency had been won and that the Nigerian Army was merely executing a mop up operation to extinguish remnants of Boko Haram in the North-East. But this has turned out to be a mere propaganda. The war is exacerbating instead of abating.
And one of the reasons Nigeria is not winning the war is the low morale of the soldiers. Morale is a potent intangible in warfare. You can acquire the latest and unprecedented mass of weapons and ammunition. Without preparing your army psychologically it would be difficult to win the war.
Burutai is too morally insipid and psychologically vapid to inspire hope or
Instill faith. The reasons are bare. Burutai is a multi-millionaire who enriched himself from proceeds of the war . He has multi-million properties in Dubai in Abuja. He said those properties were bought with his family funds.
He has no hope or faith in this country. Burutai is not patriotic enough to lead the war against terrorism. What grain of moral seed would a serving Chief of Army Staff who owns multi-million properties in Dubai sow in his soldiers? Burutai has one half of his heart in Dubai, hoping for the worse before he relocates and the other half in the war theatre in the north. Such a man can never win the war on terrorism. When you fail to inspire your troop, you face internal revolt and disquiet.
This is exactly why recently, 356 soldiers fighting Boko Haram
sought voluntary retirement over "loss of interest".
The soldiers in a letter with reference number NA/COAS/001, quoting the Harmonised Terms and Conditions of Service soldiers/rating/airmen (Revised) 2017, asked for approval to leave the Nigeria Army due to low morale. An army that faces such mass resignation of its troops is facing grave internal revolt. It can never win any war.
Recently, the former theatre Commander of Operation Lafiya Dole General Olusegun Adeniyi in a video had lamented how his men were outgunned and ambushed while on an operation in Borno. He lamented how the military authorities do not supply them with accurate intelligence and the desired weapons to combat terrorism.
This was a clear indictment on Burutai. And Adeniyi paid the price of speaking the truth.
In September, President Buhari listed the rehabilitation and reintegration of repentant Boko Haram members into the society as part of the achievements of his administration.
"We have also worked to address emergent cases of insecurity and insurgency in the country with innovative approaches such as Operation
Safe Corridor, which de-radicalize, rehabilitate, and reintegrate willingly surrendered Boko Haram members into the larger society."
How can you discipline your soldiers for telling the truth but rehabilitate terrorists who kill you own soldiers? The truth is that the war against terrorism has turned to be a war of boisterous rhetorics and sweeping rhapsodies. No war is ever won by verbal fuselage.
For a President that cares, all his service chiefs would have been sacked since yesterday especially Burutai. He has Failed woefully. He ought to have been retired in 2016 but has now spent 38 years in military service instead of the mandatory 35 years. Burutai is also 60yrs old this year and has reached the compulsory army retirement age. It is unimaginable, why Buhari still keeping him.
Burutai has committed a lot of war crimes. He should be sacked now, arrested and prosecuted. With him Nigeria can not take one positive step forward in the fight against terrorism and insurgency.