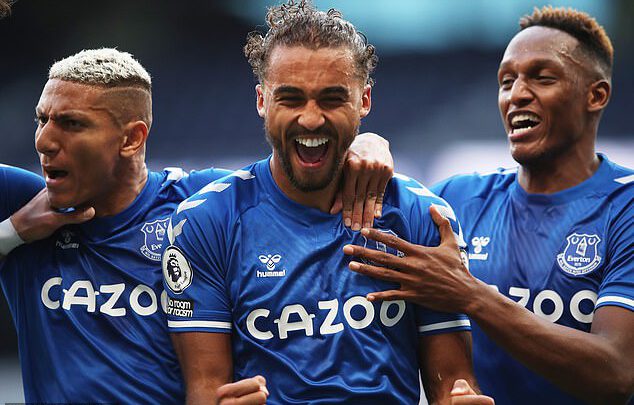 *Dominic Calvert-Lewin celebrates scoring the opening goal for Everton in the second-half
Jose Mourinho, returned to a familiar terrain Sunday, blaming his Tottenham players for the 0-1 loss to Everton.
He said: "I'm disappointed with the performance, yes. In the first half we had the best chances, a couple of important saves by Pickford. In the second half, when they scored, we were not able to create and they dominated the game. The struggle started in the way we pressed, or the way we didn't press – it was very, very poor. It was lazy pressure, and when you let them play from the back they are comfortable. In spite of that, I repeat that in the first half we had some good moments.
"The goal was a bit strange. It's not an excuse for the result, but with so many referees on the pitch, it's incredible that they could take a free-kick five metres away from where the foul took place. Five metres in the crossing position makes a huge difference. But I don't want to dwell too much on this incident.
"Due to a very strange pre-season, some of my players are not fit. But congratulations to my good friend Carlo and Everton."
The manager expressed his relief that the Amazon cameras were not on hand to capture what he told his side following the defeat
Jose Mourinho believes his Tottenham players were "lazy" during a disappointing 1-0 loss to Everton to start to the Premier League season.
Dominic Calvert-Lewin scored the only goal of the afternoon in north London, nodding home Lucas Digne's free-kick to seal the win for the visitors.
Spurs looked off the pace throughout, with James Rodriguez in particular posing a constant threat on his debut for Carlo Ancelotti's charges.