360 House members receive N5.02bn latest exotic cars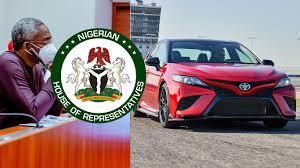 The 400 latest 2020 Toyota Camry SUVs for Members of the Nigerian House of Representatives have arrived and are being shared out to members.
In February, 100 of such cars arrived even as coronavirus pandemic continues to ravage the country and her economy. The earliest ones were shared out to new members.
The remaining exotic purchased cars for those yet to collect are parked at different parking lots within the National Assembly Complex.
The legislators had, at an executive (closed-door) session on Februay 2020, resolved to purchase 400 units of the exotic cars.
While the House has, however, been mute on the cost of each unit, it was gathered that the contract for the supply was not awarded to accredited Toyota dealers. The House reportedly procured the V6 Limited Edition variant of the car.
Last February,Chairman of the Committee on House Services, Wale Raji confirmed the delivery of the first 100 cars.
The cars, which belong to the National Assembly, are usually auctioned to the lawmakers after four years.
It cost the House about N5bn to order for the cars though a source at the House said only 3bn was spent in purchasing them.