The tantrums of OUK and his unending melancholy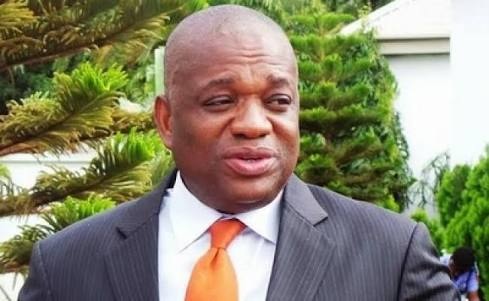 By Eddie Onuzuruike

Kalu has done it again! He has slumped into his comfort zone of T A bashing. It is very clear now that whenever he lacks themes in his gossip column called leadership, he picks on Chief T A Orji, the luminous successor he has done everything possible to defame and diminish.
Saturday, first October, 2016, our national day that should have been left inviolable for sober reflections, issues on democracy, national solutions and discussions on the way forward, instead, OUK once again launched his unprovoked attack on the defenseless Senator Orji titled: 'T A Orji, the price of perfidy.' He credited a quotation from Julius Caesar to have come to him the first time from his mother. He fruitlessly as his penchant was tried to heroize his illiterate mom. He had the audacity to call her a virtuous woman and I am sure that nobody is fooled as they know better.
'Long before the announcement was made, some people had started calling me not to consider his name, because he was a man I would not be able to tolerate. They named some activities he was involved in the past to portray him as somebody not suitable for the job.' The above was a mental construct of the author. All who knew T A before his appointment as Principal Secretary, Government House Umuahia, had nothing but good memories and fine words. His CV that is in public domain states how he got into the civil service and served all the military administrators and civilian governors in Imo and Abia without attracting a query, warning or interdiction. Based on clean record and merit, he was seconded to NECON where he served as Admin Secretary where Kalu could not resist his honesty and probity. One Hilda Ifegwu posited that prior to this, Kalu hardly knew where to append his signature on a formal document and Kalu retained him for 8 years while dispatching deputies like handkerchiefs. Could such have been a bad officer?
Further down he admits, that T A won not because he was popular or rich; 'he won simply out of providence and massive backing we gave him.' What else will you do to a party flag bearer; I am happy with the term providence. If you admit that providence played a role why claim that you made him governor singlehandedly? That seems to be settled by a slogan trending in Rocks Ukwu's Face book timeline: If you made me governor, make yourself senator!
The said author contradicts himself in the multiple paragraphs of his yarns. For instance in paragraph 14 he wrote, 'I had worked with him for close to 8 years and he has exhibited extraordinary leadership skills.' And I ask, would theses skills disappear overnight?
His piece was a complete rigmarole of serious abuse of space and multiple lies only because he owns a newspaper. He claimed to have built Ummunneato General Hospital, Abia State Teaching Hospital, IGI Aba, but a check proved that he never built any of these. In truth, one of these is almost the age of our man. The glass industry in Aba was an initiative of the Military administration immediately after the creation of Imo and was perfected by late Mbakwe's administration.
Ample evidence abound that our man has a penchant for false claims without considering the consequences. One of such was the recent claim in the Sun of August, 31, 2016, that he once helped Great Awo when his car broke down in a Lagos street. Evidence adduced later by an Awo insider stated that Awo never owned a Rolls Royce but constantly used Mercedes cars bought directly from Leventis and had a permanent mechanic if there was any need. In another outing in one of the Western states in a June 12 celebration, he falsely claimed to have declared June 12 annually as public holidays while he was governor in Abia—all these childish yarns that have made him a laughing stock do not bother him.
In another defence in his column, 'I find it ludicrous when some people say that I chased T A and Ohakim away.' Conversely, the interview granted by his state party chairman chief Emeka Okarfor on June 1, 2016, in page 10 of the AUTHRITY Newspaper, Emeka avowed that Kalu is the architect of his woes and brought the doom on his party and political career due to his poor human management. Okarfor unequivocally stated that PPA crashed due to the exit of Ochendo who bore the financial burdens of PPA. In his words 'Orji was like the big masquerade that carried PPA while he was with the party and that since his exit, no suitable replacement has been found.' This hardly needs belaboring. His contemporaries like Tinubu have moved ahead with their followers and now in national reckoning. Who stands firmly today with the former governor?
He hallucinates scoring a point with the apologies of Orji's kinsmen. He is just fooling himself. If these disgruntled people have any genuine apology other than spiting Ochendo, they should have gone to Igbere in a traditional and formal regalia but were led by a ragtag group. Eze Onuoha shamelessly left his palace as royalty and custom demand, claimed to have mandate of the Ibeku people but was fiercely disclaimed by Ezes Ezekwem and Emenike stating clearly that there was no meeting of Ibeku Traditional Council and so spoke from his bitterness and for himself and family. The guest only regaled on such circus performance and did not ask these people why it took them 9 years after serving and communing with T A for 8 years in office before the false apology in which they cajoled him to Umuahia instead of going to his home. He cherishes the title of former governor as emblazoned in his writings and papers but does he behaved as one? Is he the only former gov who fell out with his successor? Why are these constant issues in his newspaper where people have been sacked if they refuse to pen against Orji? What did he abandon in the Abia Government house for 9 years that he cannot endure?
As observed by the said Hilda, 'his so called leadership page in his Sun Newspaper is a page of ghoulish writing. Ghoulish in mode and ghostly in presentation and ceaseless persecution. Should a page with such title write thrash? This manifests that OUK knows nothing about leadership. Can you imagine Jim Nwobodo, Chimaroke Nnamani, Dr. Mbadinuju, Ohakim, Peter Obi, and all former Govs doing such scandalous writings?
Enough of these senseless attacks. The world expects good examples and decorum from an Ex Gov. not insults, lies, unbridled calumny and mud splashes. Orji has moved ahead, now a senator of the federal Republic of Nigeria which Kalu critically aspires to be but cannot. A serious decline from governing 17 LGAs and now sweating gravely for 5 LGAs.