Uma Ukpai Dances Over Ikpeazu's Achievements in Abia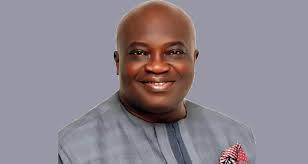 "I danced in my room after seeing a galaxy of street lights in Aba. I couldn't believe I was in Aba. I slept off and dreamt I was in Uyo."
With these kind words, world renowned preacher, Reverend Uma Ukpai, passed a vote of confidence on the government of Dr. Okezie Ikpeazu and applauded his transformation drive that has brought a facelift to the two metropolis of Umuahia and Aba.
Reverend Ukpai said he was excited to see the huge road construction work that Governor Ikpeazu has done in the state within a short period of eight months, saying that the new network of street lights made him to have a sound sleep on his recent visit to Aba.
Reverend Ukpai who was speaking when the Governor and members of his EXCO paid an unscheduled courtesy call to the cleric in his Uyo residence also noted that Ikpeazu brought creativity and innovation to bear in his approach to governance, stressing that he was making the impossible possible in the face of the state's dwindling economy.
The cleric said he was highly impressed in what he described as the Governor's 'early signals" and expressed hope that Abia will witness a watershed of development and progress under him.
He further described the governor as 'God's Annointed One" whom he has raised for a purpose in Abia and emphasized that he was overwhelmed by the governor's 'coat of humility" from the first day he met him.
The cleric stated that having visited him and received his blessings, things will change in Abia and the narrative will never be the same again.
He further vouched his commitment to Governor Ikpeazu and his government adding that he will never relent in his supplications and prayers for the success of the government. 'I will remain committed to you and the government of Abia State," he said.
The cleric advised Abians to rededicate the state to God and renew their prayer life as every good thing including riches of nations and individual prosperity comes from God.