Popular Nollywood actor, Clems Onyeka killed by stray bullet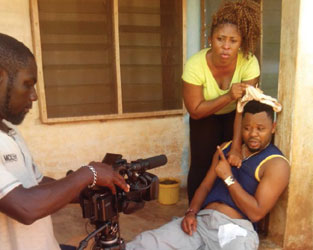 A prominent Nollywood actor, Clems Onyeka was killed in Asaba, the Delta State capital today when policemen engaged some robbers in a shootout as the robbers attempted to rob a bullion van.
The actor was said to have been hit by a stray bullet while the robbers and the police escort engaged in a gunfight.
Some policemen were reportedly seriously injured in the incident, which sent motorists and pedestrians along the DBS road and Summit road scampering for safety.
A military detachment arrived at the scene after the robbers had left.
The soldiers helped in evacuating the injured to the Federal Medical Centre, Asaba.
The Delta State Police Public Relations Officer, Celestina Kalu, who confirmed the report to our correspondent, said the driver of the bullion van managed to drive off leaving the police escorts behind to face the robbers.
"It is apparent that the robbers laid ambush for the bullion van and the police escorts that were coming in from Awka. But the bullion van driver was able to manoeuvre his way away while the policemen engaged the robbers," Kalu said.
"One of the robbers dropped down as the shootout went on, but his colleagues were able to carry him and escaped with him as the police fire became too hot for them," she said.