Oshiomhole commissions 300 cabs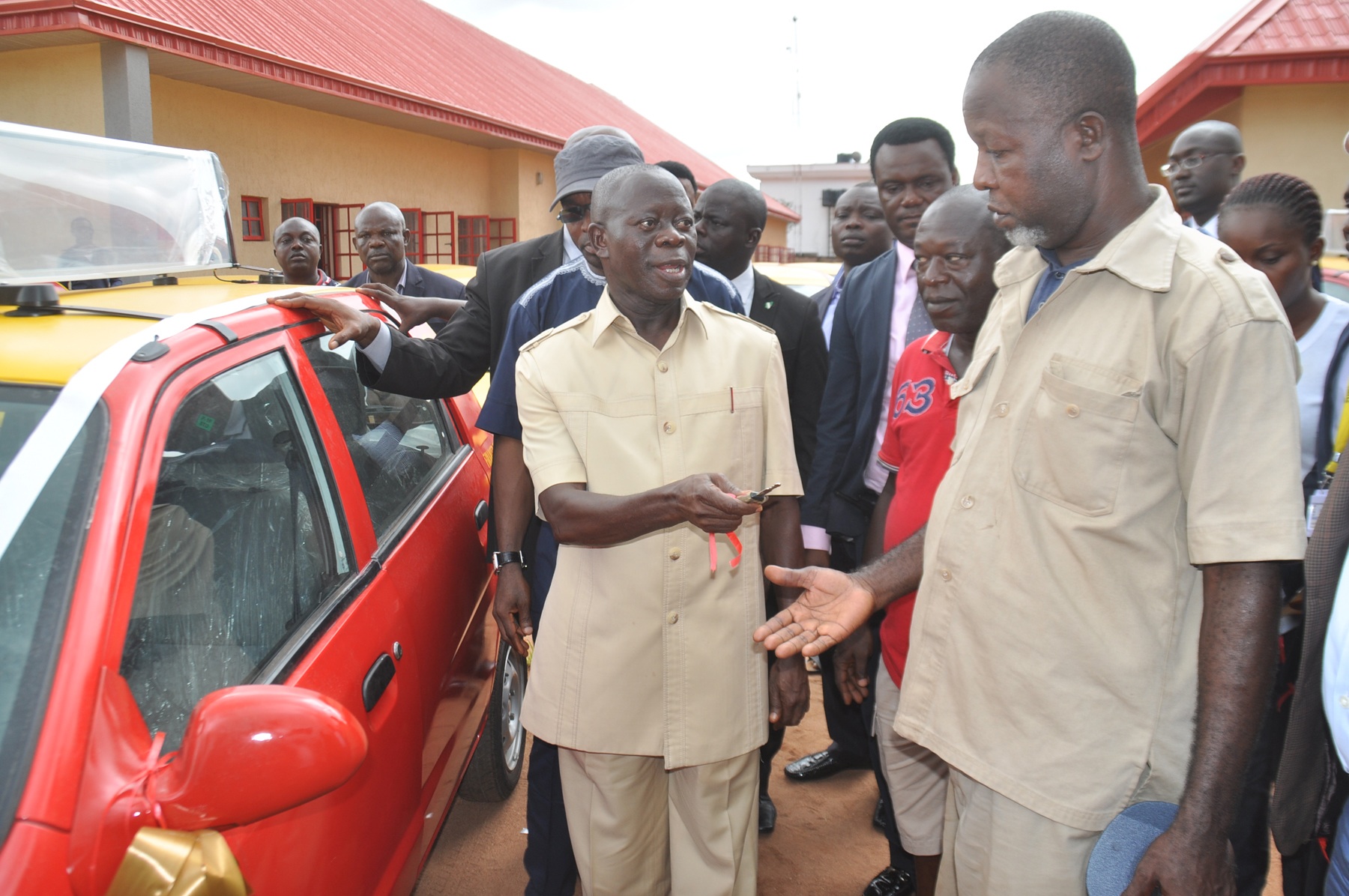 Photo:
Governor Adams Oshiomhole hands the key of a brand new "Comrade Cab" to Mr Peter Adoror, Chairman, ex-Okada Riders' Association during the commissioning of 300 Comrade Cabs which were distributed to ex-Okada riders in Benin City, yesterday.
Governor Adams Oshiomhole of Edo State, yesterday, commissioned 300 Comrade Cabs purchased by the State Government for the use of former Okada riders, to cushion the effects of the ban, in June last year, of the operation of commercial motorcycles, popularly known as Okada, in the state Capital.
He thereafter drove one of the cabs, round Benin City, the state capital, picking passengers and dropping them at their destinations.
Speaking at the commissioning, Oshiomhole said his most difficult decision as Governor was banning the use of commercial motorcycles in the state capital.
He said, "I found myself taking a tough decision after repeatedly assuring Okada riders that Okada will not be banned in this state and when I said that, I meant it. Indeed, after my second tenure elections, I renewed that assurance and I know you were really shocked that after reassuring you repeatedly, you woke up one day to hear that the same comrade had decided to prohibit Okada and to give you a very short notice that was less than one week.
"That was a tough moment for me because I believe that as we say, those of us who are Christians say that there are moments of temptation. There are things in government that you are never able to disclose even as you are committed to accountability and transparency.
"When it became clear we had overwhelming majority of you honest, hardworking genuine Okada workers, labouring everyday to earn a living, we also found out that some criminals from some other states had infiltrated your ranks and in no time became even more in numbers. It was clear that many of the Okada riders didn't know anywhere in Benin City, and clearly they were here for different reasons."
He declared, "The challenge for the decision maker is to see how you distinguish the genuine operatives from the criminals. That was a process that was physically impossible. I found myself having to say to you eyeball to eyeball, you no longer can drive commercial bikes in the city of Benin. That was the most difficult decision I have ever had to take since I became the governor of the state. It was a choice between what was politically convenient and what was in the best interest of the Edo public including your own selves."
Governor Oshiomhole maintained that in providing the taxis, "government gave 15% subsidy on the price of each vehicle and the subsidy is a grant that we are giving to each of the beneficiary. We are not expecting you to pay back to the government of Edo State".
Earlier, the Commissioner for Transport, Mr. Orobosa Omo Ojo said government negotiated to reduce the interest rate by the bank from 21% to 18% as well as providing a comprehensive insurance.
On his part, the Chairman of the former Okada Riders, Comrade Peter Adoroh appreciated the Comrade Governor for the provision of the first phase of 300 taxi cabs promising "We will remain with you come rain or sunshine".
After the commissioning, the Governor literally turned a taxi driver as he drove round Benin City, the state capital, picking passengers and dropping them at their destinations.
The Governor who drove one of the cabs shortly after the commissioning picked some students of Imaguero College who had closed and were on their way home and dropped them at Mission road.
Thereafter, the Governor picked two new passengers from Mission road to New Benin and charged them N30 as their fare, saying the N30 he decided to charge N30 as fare because it was a short route which shouldn't attract much fare. He however did not collect the fare from his passengers.
From New Benin market, he picked fresh passengers to the Mission road and charged the same N30 fare before he drove down to the NNPC Mega station on Sapele road to fill the tank of his cab. He paid N3,298:00 to fill the tank of his cab.