Tragedy! 25-Year-old student dies in hotel's Swimming Pool in Ibadan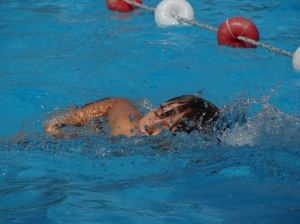 …From Dele Ogunyemi, Ibadan…
Tragedy struck in Awe, an agrarian community within Oyo town on Wednesday night as a 25-year-old student, Abayomi Shittu, died inside the swimming pool of a newly established five-star hotel [names withheld] in the community.
It was reliably gathered that the gory incident occurred around 6pm on Wednesday when Abayomi, who was said to have drunk himself to stupor, went to swim at the adults pool of the hotel.
Eye-witness accounts had it that when Abayomi's colleagues who were also in the hotel observed that he was motionless in the swimming pool, the hotel officials were immediately alerted.
But for the timely arrival of policemen in Awe town, the ugly development would have degenerated into violence as the aggrieved colleagues of the deceased engaged the hotel's management in protest over alleged ill-equipping for emergencies and life-saving measures.
The aggrieved youths complained bitterly that when the tragedy occurred, "an official of the hotel only responded by bringing in a malfunctioning machine to evacuate the water in the pool. The machine could not work. Efforts to look for an alternative machine also failed."
According to the protesting youths, "the water in the pool was eventually evacuated around 10pm when the lifeless body of Abayomi was fished out."
The Divisional Police Officer for the area was said to have been alerted by the hotel official, who in swift response arrived venue of the incident late in the night with armed policemen.
The timely arrival of the DPO and a youth leader in the community, Mr. Gbade Adesesan saved the tensed situation from turning bloody violence, as the youths have mobilized for massive destruction in the hotel.
Some of the aggrieved youths complained that being a new hotel, the swimming pool lacks among other things Divers, Life Jackets and Inner Tubes that can be used in evacuating the water whenever there is emergency.
The deceased was later taken to the State Hospital in the neighbouring Oyo town, and with the presence of the police accepted to be deposited at the mortuary.
The corpse was said to have been released to the deceased family and relations the following. Day [Thursday], and has since been buried according to Islamic injunctions.