20 wrestlers for World Peace Wrestling Project in Nigeria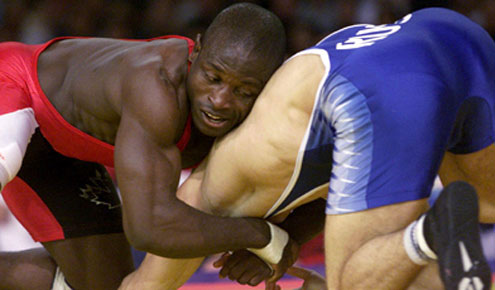 Twenty international professional wrestlers will feature at the inaugural World Peace Wrestling Project scheduled for Nigeria in April 2014.
The World Peace Project is a collaborative venture between the current World Wrestling Champion, Power Uti of Nigeria and a Canadian firm, Quick Connect to seek global peace.
Uti, who made the announcement at a news conference on Tuesday in Lagos, said the wrestlers would come from 15 countries.
The countries are the U.S., Canada, Britain, Germany, Brazil, Peru, France, Spain, Italy, Greece and Mexico
Others from Africa include host Nigeria, Cameroon, Democratic Republic of Congo and Uganda.
The News Agency of Nigeria (NAN) quotes Uti as saying that the round robbing contest would be held in seven Nigerian cities.
"For now, only Abuja and Lagos have accepted to host us but we are still discussing with others on the project of using sports to achieve global peace.
"Our concept of using sports for global peace has been on for a long time.
"But we are only actualising it because of our understanding of the role sports can play in international harmony," he said.
Uti, who is currently a pastor with Living Faith Ministry, popularly called "Winners Chapel'', said the project included an international peace walk by the wrestlers.
It will also involve a global peace seminar and an affirmation for the use of sports for global peace.
In his contributions, the Chief Executive Officer of Quick Connect, Mr Victor Osazua, said the partnership would also be used to create employment for Nigerians.
"Our target in the collaboration is to employ 20, 000 Nigerians in every state and three million people across Nigeria in six months using sports," he said.
Osazua said that as operators of a concept development company, their mission in Nigeria also included the use of different sports as marketing platforms.
"Sports as an omnibus vehicle in addition to its potential as a peace agent will also contribute toward the reduction of cost of goods and services," Osazua said.
Dr Rafiu Ladipo, President-General of Nigerian Football and other Sports Supporters Club, commended the initiative and pledged the support of his association to the project.
"As a Nigerian peace ambassador, I commend Uti and the Canadian company for this global peace initiative through sports.
"It is also worthy of Nigerians' support because of the role of sports in global peace. We as a nation can only grow and develop if we allow peace to reign," he said.