Faith Tabernacle Church Amaogwugwu dedicates Church building
It was a day of joy, celebration, praises and adoration to God as members of Faith Tabernacle Congregation, Amaogwugwu, Umuahia dedicated a magnificent, modern and compact church building.
The event which held on January 19, 2020 at the church premises in Amaogwgwu in Umuhu Ohuhu, Umuahia North LGA Abia State attracted a lot of dignitaries including National Presiding Elder (PE), Pastor Marshal Bara, Assistant PE, Pastor A.U. Nweke and National Secretary, Pastor Johnson Okoro.
Others include Trustees, Pastor Gabriel Farayola, Pastor Israel Nyeduko, Pastor Uwem Udoette and the station Pastor, K.E. Anyalewechi.
Tracing the history of the church, Pastor T. E. Edeh, Trustee/Umuahia District Pastor recalled that the church started in 1938.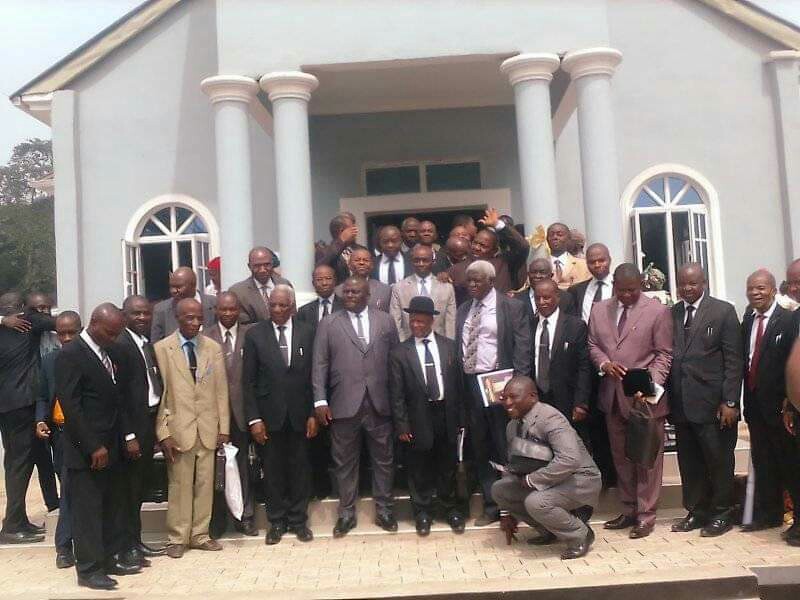 *Pastors in a group photograph
He said: "People around this area worshiped at Faith Hone Osah. From there, they moved the worship venue to Okaiuga tNkwoegwu…the venue moved to Pa Onuzuruike Ugwueke's residence (father of late Bro Dick Onuzuruike) at Amaogwugwu. Due to inconveniences, there was the need to have a permanent place of worship….
"Thus this land was acquired. Mud houses with thatched roof were erected and services commenced on this land."
In his response to the welcome address, National Presiding Elder, Pastor W. Bara noted that the church has become a wonderful point of reference to the community and district as a whole. "We thank those that yielded themselves as instruments of good works in God's hand to achieve this great feat. It is not only that this physical work was done, we have also observed that the Pastors sent to this place are always adequately take care of by the brethren at home and especially those living outside the home.
"As we gather here today, let us think on what we should do to improve on the churches in our hometowns and villages."
He enjoined Christians to be prepared to render services to God and mankind as never before in this year, 2020.
"If we want extra-ordinary good and lofty things to happen to us, let us rejoice in doing good works as never before," he said.