As he  climbs another ladder in this pilgrimage called life, there are two evergreen quotations that sum up the  person and  character of Sir Chibu  Ernest Enwereuzor (Ogbaturuenyi  Mbaise):  One,  the Bible in Proverbs 18:24,  says "a man that hath friends must shew himself friendly: and there is a friend that sticketh closer than a brother."
Two, Dalai Lama says of  kindness and  goodness: "This is my simple religion. There is no need for temples; no need for complicated philosophy. Our own brain, our own heart is our temple; the philosophy is kindness."
Without equivocation and  prevarication, Sir  Chibu Ernest Enwereuzor is indeed a friend that sticketh closer  than a brother,  at least to hundreds of thousands like  us who have no blood relation with him. On  the reverse, and to  those who share  are  directly related to   him,  he  sticks closer and closer as  a true  and faithful brother.
Again, as the Dalai Lama said, though Sir Chibu Ernest Enwereuzor is a  faithful Christian, his religion is  kindness, goodness, correctness, justness, virtue and  integrity. That is his  philosophy, that is what he  lives for. He is a  good man, in and out.
Sir Ernest Enwereuzor is  without doubt consummate business mogul, a corporate icon, a philanthropist, a man of character and integrity, a well-respected Nigerian with Pan Nigerian disposition, was born into the influential family of Nze Ernest (Late) and Lolo Christiana Enwereuzor of Abu Eziala Amumara, Ezinihitte, Mbaise LGA, Imo State. He is the first of the four surviving children of his parents.  
He had his early education at Central School Amumara (1966 – 1973) and later proceeded to prestigious Ife Grammar School for his secondary education (1974 – 1979).
 He has traversed both the corporate and academic world and recorded successes in both. This quest for further knowledge and wisdom took him to the famous University of Lagos, where he bagged a Bachelor of Science (BSc) in Business Administration in 2002. Still in search of wider knowledge, he enrolled at the Lagos State University (LASU) and obtained a Master's Degree in Business Administration (MBA) in Human Resources Management in 2007. His insatiable quest for knowledge took him back to the University of Lagos where he obtained Masters of Science (MSc) in Management. While at the  University of Lagos (UNILAG) he was elected the President of South East Students Union and the Chairman Elders Council of the students union, the position which benefited many Mbaise students. He is surely a good material for representation.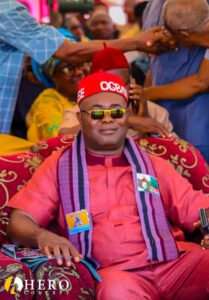 He  is an asset to  mankind, a well informed, experienced, mature, public spirited, just and dependable, philanthropist of immutable proportions who  has lifted many souls from the dungeon of  poverty in Mbaise nation and beyond. 
Some of his  philanthropic gesture include youth empowerment and Job creation, rural electrification and provision of  electrical transformers, poverty alleviation programmes,  encouraging people to start viable  business activities; active participation in  the realisation of many church projects both in Catholic, Anglican Church and all other Christian cchurches in Mbaise and beyond. 
He has also  awarded scholarships freely to indigent students and provides shelter to the poor and the needy. 
Sir Chibuzor Ernest Enwereuzor is a successful manager of human and material resources, an exceptional scholar, a visionary leader, a dependable man of repute, an outstanding community leader and mobilizer, a motivator and an inspiring epitome of hard work and dedication, a man of "primus inter pares" with all he has accomplished, his life is still embedded in Christianity (An acquiescent Christian). 
He  is a recipient of several awards: The Diocese of Mbaise Anglican Communion invested him with a knighthood in 1994, (Knight of St. Christopher) with all these colourful and scintillating feathers and in recognition of his outstanding contributions in the development of his Amumara Community and the larger Mbaise Nation, he was in 2010 honoured with glowing chieftaincy titles as Ogbaturuenyi of Mbaise Nation, equally he has received many other titles, awards and certificates from various communities, churches, youth organisations and the academia. 
He belongs to a number of National and International associations and unions including People's Club of Amumara and Aka Ikenga Club among others. 
Sir Ernest Chibu Enwereuzor is married to Amiable Marie (Lolo Stella) and they are  blessed with children. 
It will be disingenuous to  apply the birthday of a good man in terms of day and time. Everyday, every  week, every month should be counted as  his birthday. He is a blessing t5o  mankind. 
In  these days of leadership failure in our country  and  communities,  we can only  pray that God will answer Josiah Gilbert Holland's prayer  and  give us men like Sir Chibuzor Ernest Enwereuzor:
"GOD, give us men!
A time like this demands
Strong minds, great hearts, true faith and ready hands;
Men whom the lust of office does not kill;
Men whom the spoils of office can not buy;
Men who possess opinions and a will;
Men who have honor; men who will not lie;
Men who can stand before a demagogue
And damn his treacherous flatteries without winking!
Tall men, sun-crowned, who live above the fog
In public duty, and in private thinking;
For while the rabble, with their thumb-worn creeds,
Their large professions and their little deeds,
Mingle in selfish strife, lo! Freedom weeps,
Wrong rules the land and waiting Justice sleeps."
As we celebrate your birthday, Ogbaturuenyi,  I give thanks to God for placing you in my life. May your day be filled with joy, reflection, and hope for the year ahead, and may He continue to bless you and watch over you all the days of your life in Jesus  name. Amen.
*Written by Justus Nwakanma and friends of Sir Ernest Chibu Enwereuzor