My administration intervened in 1,600 roads in four years: Sanwo-Olu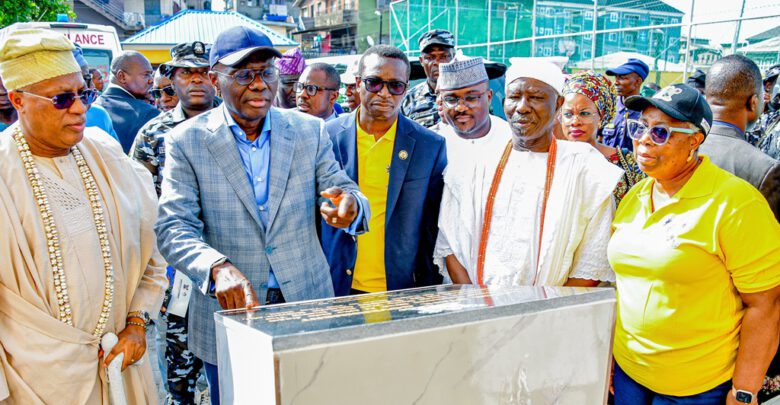 Photo: L-R: Onisabe of Igbobi-Sabe, Oba Owolabi Adeniyi; Lagos State Governor, Mr Babajide Sanwo-Olu; Chairman, Special Committee on Rehabilitation of Public Schools (SCRPS), Mr Hakeem Smith; Opeluwa Onido of Lagos, High Chief Aderibigbe Ajose and Commissioner for Education, Mrs Folashade Adefisayo, during the official commissioning of Oke Odo Junior High School, Ebute Metta, as part of activities marking the Day Five of the inauguration ceremonies of Governor Sanwo-Olu/Dr Obafemi Hamzat, on Friday, 26 May 2023.
Gov. Babajide Sanwo-Olu made this known on Friday in Lagos Island, during the inauguration of the Adeniji Adele Road and Tapa Street Road in Lagos Island Local Government.
Mr Sanwo-Olu said that his administration would continue to do the very best for residents, as it ensured the greatest good was done for the greatest number of residents.
"In road construction in Lagos in the past four years, we have done intervention in over 1,600 roads, we have added about 141 brand new construction with a total length of close to 700 kilometres.
"We're happy that we are following our master plan, as enshrined in our THEMES agenda.
"Today, the train for the commissioning of infrastructural projects has arrived on Lagos Island. As part of the Lagos Island Area North Action Plan, to regenerate Lagos Island.
"Also, in a bid to support businesses, promote economic development, preserve the unique attributes of Lagos Island, sustain its contributions to the development of the state, and ultimately improve the standard of living, we instituted an infrastructure renewal and upgrade project for Lagos Island.
"We decided to start the renewal effort with the construction and upgrading of two strategic roads, which are: Adeniji Adele Road and Tapa Street.
"The choice of the reconstruction and upgrade of Adeniji Adele and Oke Popo/ Tapa Streets to kick start Phase 1 of the regeneration plan was because of their economic importance and the high level of traffic they convey.
"Next, we are coming to Idumagbo Avenue, Ojo Giwa Street, Swamp Street, and Anikantanmo Street, as well as to redevelop Pelewura Market, amongst others," the governor said.
He said that the delivery of the road would no doubt help to improve connectivity within the axis, unlock perennial traffic gridlock, and reduction in travel time along the corridor while complementing the new Massey Children's Hospital.
According to him, the projects will impact positively the lives of residents; enhance safety and security; lead to the creation of new jobs and livelihood opportunities in Lagos Island in general.
"Also, it is expected that the regeneration projects will improve connectivity and reduce drastically the travel time of commuters.
"What is more, the well laid out and connected drainage system will significantly mitigate the perennial flooding often experienced in this area, enhance property values as well as stimulate businesses and economic development on the Island," he said.
The governor urged motorists to drive safely and obey traffic laws, to prevent avoidable road crashes that might lead to loss of lives, incapacitating injuries and destruction of properties.
The special adviser to Governor Sanwo-Olu on works and infrastructure, Mrs Aramide Adeyoye, said that Lagos Island was one of the largest commercial corridors with corresponding high volume of human and vehicular traffic; with poor drainage system, which resulted in rapid road degradation.
Mr Adeyoye said that the government undertook the project as part of its infrastructural renewal and upgrade of the entirety of Lagos Island to alleviate challenges and further improve economic activities within the area.
"Before reconstruction, Adeniji Adele Road was a two-lane single carriageway of about 2.234 km, while Tapa Street was about 600m.
"Presently, the 2.47km road with a carriage width of 12m has been reconstructed and upgraded to a semi-rigid pavement with reinforced concrete drains; culverts; median barriers; transverse and longitudinal service ducts, and the installation of Low-Emission Diode-powered street lighting," she said.
The special adviser added that the project, in addition to creating new jobs and livelihood opportunities in the area, was expected to eliminate the recurrent flooding, curb gridlock, improve interconnectivity and enhance commerce.
The chairman, Lagos Island East Local Council Development Area, Mr Muibi Folawiyo, thanked the government for the intervention that has improved interconnectivity in the area.
The managing director, Julius Berger Plc, Dr Lars Richtery, said that the success of the project was due to support of the residents and government.
Mr Richtery thanked the governor for trusting the firm with the project, while commending the special adviser, works and infrastructure for unwavering support.
(NAN)