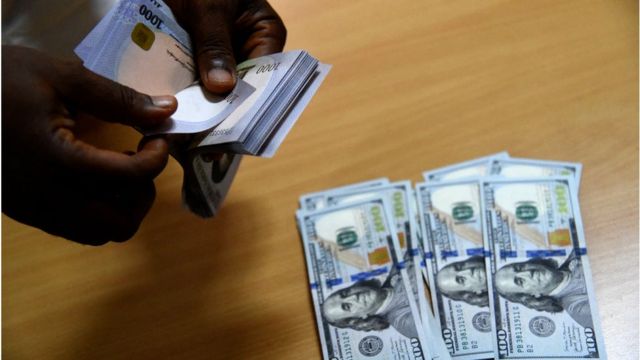 Four days before the inauguration of a new administration, the Nigerian naira has shown signs of weakening, breaching its long-standing resistance level of N750/$ and dipping to N760/$. Market observers attribute this development to the pricing in of uncertainty risks associated with a change in national economic managers. The surge in demand for foreign exchange (FX) since the beginning of the week has raised concerns, with indications of high-ticket transactions returning to the black market. While the source of these transactions remains unconfirmed, some speculate that the upcoming inaugurations across the country may be influencing market dynamics.
Political Transition and Economic Impact:
As President Muhammadu Buhari prepares to leave office on Monday, along with 44 ministers and a retinue of aides, market participants are closely monitoring the potential economic repercussions. Additionally, 18 governors will be handing over leadership roles in their respective states, and members of the National Assembly and 36 parliaments will also be inaugurated shortly after the executive handover. The Economic and Financial Crimes Commission (EFCC) has reportedly been scrutinizing outgoing public officials, with concerns over petitions and investigations into alleged corruption.
Correlation Between Political Transitions and Currency Fluctuations:
The current situation is reminiscent of the 2015 foreign exchange rate crisis, which occurred ahead of the inauguration of the Buhari administration. The spike in dollar scarcity at that time raised concerns about the relationship between political transitions and currency dynamics. On Monday morning, the naira traded around N735/$ but began to weaken as the day progressed, losing nearly four percent week-to-date. Despite some anticipated relief in demand, the local currency still faces downside risks.
Naira's Historical Performance and Recent Stability:
The Nigerian naira had maintained a narrow trading range of 730-N750/$ at the parallel market for over six months, representing a period of relative stability. This marked a significant departure from the past, when the currency experienced wide swings and multiple rate changes within trading sessions. The naira had faced its peak exchange rate crisis in the past, with the dollar reaching N880/$. While politicians and speculators were previously active participants in the market, the currency gradually gained stability towards the end of last year.
Outlook and Inflection Point:
As the country approaches a political transition, the naira's recent weakening raises concerns about its future performance. The surge in FX demand, coupled with uncertainty surrounding the incoming administration, suggests a potential inflection point. Whether the currency will stabilize or experience further volatility remains to be seen. Market participants and observers will closely monitor the situation, as it may have broader implications for the Nigerian economy and its financial landscape.