Nigerian Drug Enforcement Agency Seizes Methamphetamine and Cannabis in Major Operations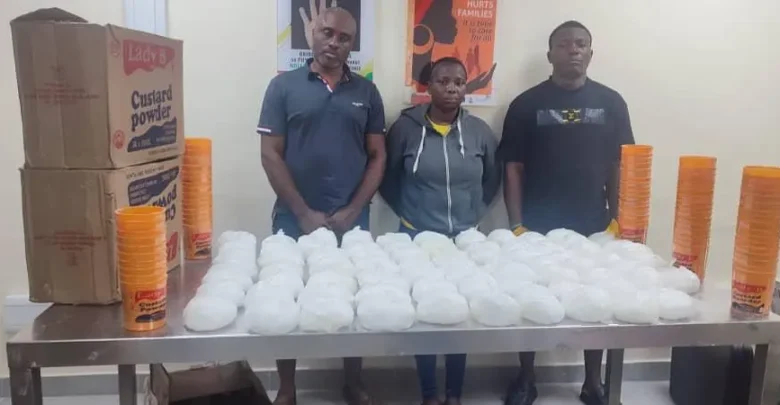 The National Drug Law Enforcement Agency (NDLEA) in Nigeria has successfully intercepted a significant quantity of illicit drugs in various operations across the country. These operations led to the seizure of methamphetamine and cannabis, the arrest of multiple suspects, and the dismantling of drug networks involved in trafficking. The NDLEA's swift actions demonstrate their commitment to combating drug-related crimes and ensuring the safety and well-being of the Nigerian population.
Methamphetamine Seizure at Murtala Muhammed International Airport:
At the SAHCO export shed of the Murtala Muhammed International Airport in Lagos, NDLEA operatives discovered and seized a large consignment of methamphetamine concealed in powdered custard containers. The shipment, part of a consolidated cargo bound for London, weighed 30.10 kilograms with an estimated street value of N567 million. The interception led to the arrest of a freight agent, Nwobodo Chidiebere, a female suspect, Chioma Lucy Akuta, and the drug lord behind the operation, Charles Chinedu Ezeh.
Arrests and Seizures in Other States:
In Adamawa State, a notorious drug dealer, Prince Ikechukwu Uzoma, was arrested with 1kg of skunk. Uzoma had previously been convicted twice for the same offense. Additionally, a trans-border trafficker named Faisal Mohammed was apprehended in Mubi, and a significant quantity of tramadol was seized from a truck destined for Cameroon.
In Oyo State, two suspects were arrested with 2.13kg of cannabis, while another individual was caught with 4,500 pills of tramadol during a search of a commercial bus along the Lagos-Ibadan expressway. In Kaduna State, a man named Bulus Mikah was arrested with over 5kg of opioids, including tramadol and diazepam.
Multiple Seizures and Arrests in Different Locations:
Numerous seizures and arrests took place in various parts of the country. In Edo State, a total of 965kg of cannabis was confiscated, and a cannabis farm was destroyed. In Onitsha, Anambra State, 10 suspects were apprehended with cannabis, methamphetamine, and tramadol. Similar operations in Kwara, Jigawa, and Kano states resulted in the arrest of individuals involved in drug trafficking, along with the seizure of cannabis and other illicit substances.
Commendation and Call for Continued Vigilance:
Brig. Gen. Mohamed Buba Marwa (Retd), Chairman/Chief Executive Officer of the NDLEA, commended the officers and men involved in these operations, praising their professionalism and swift actions. He urged all NDLEA personnel across the country to remain vigilant and proactive in the fight against drug-related crimes.
The NDLEA's recent operations in Nigeria have yielded significant results, with the interception of a large methamphetamine consignment and seizures of cannabis and other illicit drugs. These actions have led to the arrest of drug traffickers, including a prominent drug lord. The NDLEA's commitment to tackling drug-related crimes and ensuring public safety is evident through their efforts to dismantle drug networks and apprehend offenders. Continued vigilance and dedication from law enforcement agencies are crucial to curbing the drug trade and protecting communities from the harmful effects of illicit substances.