Sir Chikwe Udensi speaking from his huge wealth of inexperience and criminal Amnesia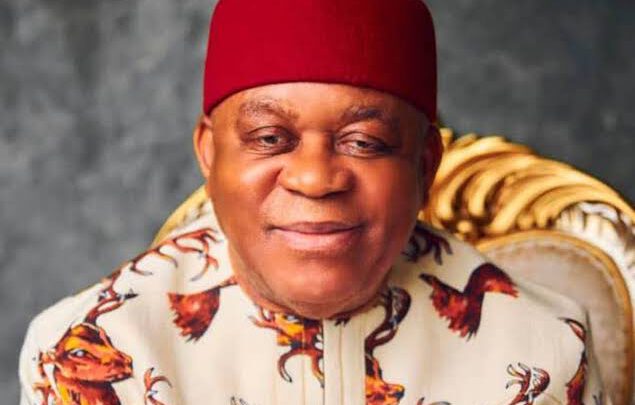 By Eddie Onuzuruike
Sir Chikwe Udensi, a vagrant, wishful politician in Abia State, had an interview with Family Love FM in Umuahia, Abia State, where he posited bundles and tissues of lies, delving into areas where he is at best a novice and passerby, enforcing my thought and conviction that ignorance is a pernicious disease that only knowledge and the knowledgeable can cure.
It is only in Nigeria that a political novice will wake up and start debating on issues where he is deeply ignorant and will still get away with it. Let me ask a few questions. Was Udensi fully in Abia when Senator Orji was the Governor of Abia State from 2007 t0 2015? Did he ever read newspapers except online junks while junketing from Lagos to South Africa? Where is his campaign and business office? Has he ever been resident in Abia State except in Aro his father's house, on few occasions he was around? When did we start hearing his name as an Abia son? He lately and falsely assumed that he could buy the conscience of some hungry and lowly in APGA, and started posturing as an aspirant? Did he survive the emergence of Otti and Prof Greggory Ibet then in APGA/ Has he held any political office anywhere in Nigeria to learn the ropes? Or has he ever contested in a ward election or gotten any nomination for councillorship? Answering these questions will tell you all about Udensi whose only ploy is deceit and blackmail.
Ochendo governed Abia from 2007 to 2015 whereas Udensi came into the scene from 2013 t0 2015. I am making this avowal with every sense of responsibility that Ochendo's years in Abia were Golden years and I will give valid and verifiable instances evident in economic and developmental indices.
I will elucidate by taking on one of the most challenging and frightening cases in Abia, Gods own State then. In all fairness, Ochendo grew grayhead overnight based on security matters from daredevil kidnappings and never experienced armed robbery including the interception of bullion vans and the murder of the security and driver, the capture of school children in Aba and others but he came out smoking to which the IG of police then expressed that 'Abia is a case study.'
Ochendo believed and invested in transparency and freedom of speech that's one of the reasons he allowed the establishment of private radio stations, Family Love FM being one of them. Many governors around the South-south and South-east who didn't give such leverage to their opponents, squelched the establishment of other radios except the state government's apparatus. If Ochendo had that mindset, he would have stymied new radios with unfavorable tax regimes and other harsh conditions.
An Imo State born entrepreneur, Chief Mike Anyanwu, who was resident in Umuahia and admired the Ochendo administration and freedom granted non indigenes, sponsored a programme which I was involved and we featured Abia commissioners to give account of their stewardship on weekly basis. I recall that Barrister Longman Nwachukwu, Engr. Emma Nwabuko and a present National Assembly member, then a commissioner, featured in the programmes, fielded questions concerning their offices eloquently.
It is very likely that the broadcasters who interviewed him were new employees who were not aware of these. Mrs Crystal Jane, Aka CJ Mama, then manager of the station, Mr propropro now in an FM at Factory Road Umuahia, can testify to these and would have posed questions that would have exposed Udensi's empty grandstanding.
Talking about the Golden years of Abia, Abia civil servants got more than their expectations from Ochendo that they did not embark on any industrial action for one day. In the first few months of Ochendo's Administration, they got a command promotion where every civil servant moved to the next level. Salaries, leave allowances and promotions were given as at when due. Nurses and other medical officers got a special scale the CONHESS and CONMESS. At that time Abia paid a scale higher than the recommended minimum wage. Around 2009, LGA chairmen with intent to blackmail the governor, with the exception of some few, refused to pay the LGA workers. The best in Ochendo came out, as he sacked the chairmen and worked out a salary regime in association with the Heads of Service of the different LGAs, and got the debts liquidated. Can Udensi state particularly the ministries that were owed or the individuals that were involved if he is not a liar?
Do we talk about multiple innovations like the youth empowerment, gender elevations, elimination of school fees in primary and secondary, renovation of school buildings, supply of furniture and scientific equipment even to Udensi's home schools? There were also free busing and foreign Scholarships?
I am very sure that Udensi was ill informed and so deformed, so let me refresh his memory and that of his co-travelers.
He may not know that vehicles were given free of charge to youths to engage in transportation business and be useful to themselves. Some of these yellow cabs have been on the road for over 8 years now. Abia synergized with the Fed Government in many projects to which Dr Adesina, present head of African Dev Bank visited Abia including the former Central Bank Governor, Alhaji Sanusi. The Heath Minister then, Dr Chukwu visited Abia twice to open new health installations
Did he know that Senator Orji constructed the first helipad in Abia to aid the military and security operations, resuscitating The Ohafia military barracks and urged President Jonathan to appoint an Igbo as CGS Nigerian Army?
Did Udensi know that Ochendo removed the glass ceiling for Abia women, appointing the first female Registrar for ABSU, had the highest number of female commissioners and the highest number too, in the Assembly based on the lobby of Osinulo, his best half?
Did Udensi know that Ochendo invested in the Spiritual Redemption of Abia people, sponsoring many to pilgrimages in Israel and Jordan, building churches, handing the confiscated schools back to the Missionary and rightful owners like Evangel High Sch, Sancta Crux Olokoro, Methodist Boys High school Etc?
Did he know that the New workers sectariat at Ogurube layout, the E-library, International Conference Center, the New Government House and LGA complex are all Ochendo's signposts?
Did he equally know that Senator T A Orji, he addresses without any reverence retired meritoriously at the peak of the civil service-Permanent Secretary, served Abia as Chief of Staff, served as Executive Governor and now finishing as a Senator of the Fed Republic of Nigeria, situations Udensi can only dream about.
I am very sure that Udensi is not aware of these. He would have known that he is not fit to unlace the political shoes of Ochendo and I challenge him to an open debate on the same love FM if he speaks again.