Valencia Secure Crucial Win Over Real Madrid Amid Racist Chants and Vinicius Junior's Red Card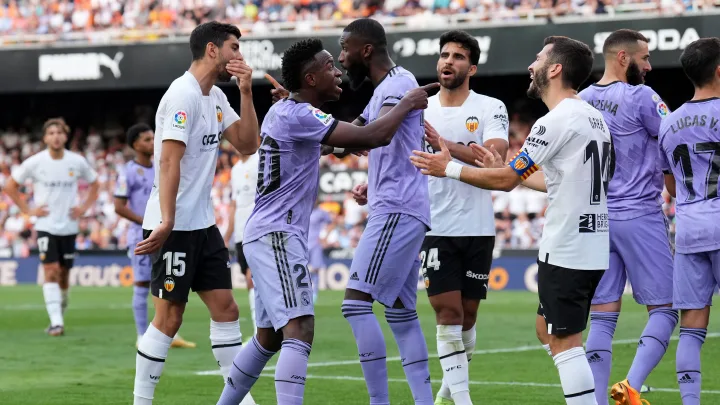 Valencia claimed a significant victory over Real Madrid with a 1-0 win on Sunday, moving them further away from the relegation zone in LaLiga. The match was marred by racist chanting aimed at Real Madrid's Vinicius Junior, which led to a temporary halt in play. Despite having nothing to play for after their Champions League exit, Madrid faced a determined Valencia side still fighting to avoid relegation.
The Match:
Diego Lopez's goal in the 33rd minute proved to be the difference-maker as Valencia clinched a vital victory. The win moved them up to 13th place in LaLiga, five points clear of the relegation spots, with three games remaining. Real Madrid, already out of the title race, currently sit in third place on 71 points, 14 points behind champions Barcelona.
Valencia's Fight Against Relegation:
With their LaLiga status at stake, Valencia showcased their determination and resilience against a dispirited Real Madrid side. The goal by Diego Lopez from close range provided a much-needed boost in their quest to secure safety for another season.
Vinicius Junior's Red Card and Racist Chants:
Real Madrid's Vinicius Junior was sent off in the closing minutes of the game after a confrontation with Valencia players. The Brazilian winger had also endured racist chants from some fans at the Mestalla, resulting in a temporary stoppage of the match. Such incidents highlight the ongoing issue of racism in football and the need for stronger measures to eradicate this behavior.
Implications for Valencia and Real Madrid:
Valencia's victory not only moves them closer to securing their place in LaLiga but also serves as a morale boost for the team. Their focus will now be on finishing the season strongly and maintaining their position above the relegation zone. For Real Madrid, the defeat adds to their disappointment following their Champions League exit. With nothing left to play for domestically, they will look to regroup and prepare for the next season.
Conclusion:
Valencia's 1-0 win over Real Madrid provides a significant boost in their fight against relegation in LaLiga. The victory moves them further away from the drop zone, while Real Madrid's lackluster performance reflects their Champions League exit and lack of motivation in the league. The match was overshadowed by racist chanting directed at Vinicius Junior, underscoring the need for continued efforts to combat racism in football. As the season nears its end, both Valencia and Real Madrid will aim to finish on a positive note and set their sights on their respective goals for the future.