Nigeria recorded 2,056 fire incidents, lost N1 trillion in 2022: Nigerian Army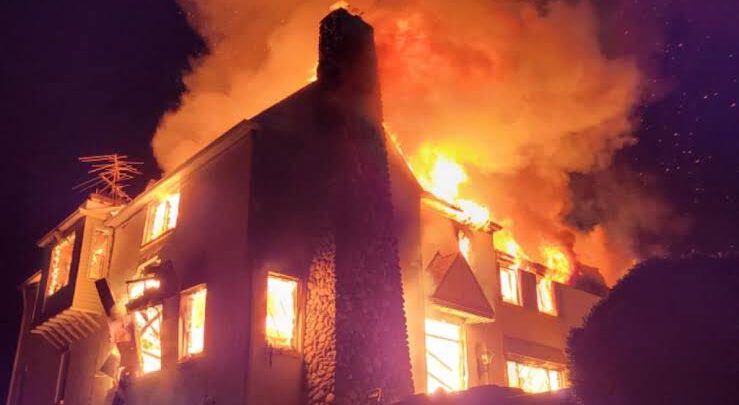 The General Officer Commanding (GOC) 1 Division Nigerian Army, Maj.-Gen. Taoreed Lagbaja, says Nigeria recorded over 2,056 fire incidents with a loss of over N1 trillion properties in 2022.
On Thursday, Mr Lagbaja gave the figures during a fire prevention and management sensitisation seminar held at the Headquarters 1 Division Nigerian Army, Kaduna.
The GOC said available data indicated that domestic fire accounted for over 41 per cent of neighbouring Ghana's fire incidents.
He explained that the seminar was part of the yearly calendar of the Army to engage barracks communities on fire prevention.
According to him, there have been increasing cases of fire due to population growth, unstable electricity, negligence and illegal electrical connections, among others.
Mr Lagbaja said the Nigerian Army was not left out of fire incidents that damaged its property and endangered the lives of the personnel and their families in barracks and cantonments.
The GOC further said that fire incidents had also led to the loss of critical operational assets, affecting the morale of troops and their operational efficiency.
"On January 24, 2021, the Depot Nigerian Army in Zaria was engulfed in fire, destroying 15 blocks. Several officers and soldiers' accommodations, as well as critical military assets within barracks, cantonments and military facilities in the Division's Area of Responsibility, were destroyed by fire in recent times," he added.
He, therefore, said it was imperative to sustain sensitisation on fire prevention and management in all military barracks.
The GOC said the division had held sensitisation campaigns on fire prevention and management and set up committees in all formations and units to drive the campaign.
Mr Lagbaja implored the participants to take advantage of the opportunity for the benefit of all and thanked the Department of Army Logistics for organising the seminar.
The resource persons were from the Nigerian Army, federal and state fire services, and the Federal Road Safety Corps.
Flyers were distributed, and static displays were made during the seminar to increase awareness and skills in fire prevention and management.
(NAN)