Human Rights Commission To Invite MC Oluomo Over Threat on Igbos in Lagos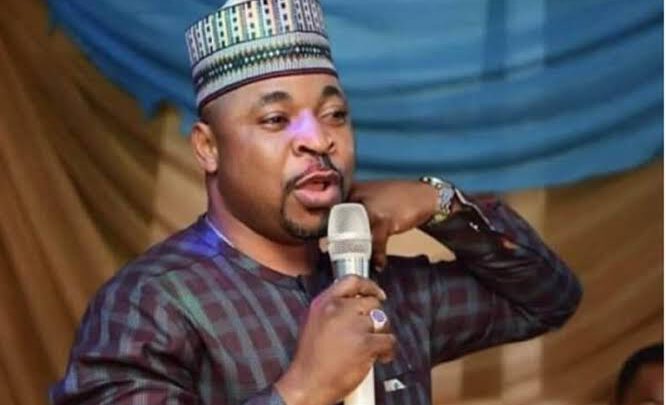 The Executive Secretary of the National Human Rights Commission, Chief Tony Ojukwu has vowed to invite Musiliu Akinsanya, popularly known as MC Oluomo to Abuja over a viral video in which he allegedly threatened the Igbo community in Lagos to stay indoors if they would not vote for the candidate of the ruling All Progressive Congress in the gubernatorial elections in Lagos State.
Ojukwu also condemned the actions of the Kogi State Governor, Yahaya Bello over the destruction of a road facility linking the community of Natasha Akpoti Uduaghan, a political rival in the state.
The Human Rights Commission which deployed over 1300 staff to various polling units across the states where gubernatorial elections were held on Saturday, said it received disturbing reports relating to the conduct of law enforcement and security personnel, hate speech, election-related sexual and gender-based violence (SGBV) and vote buying.
Briefing reporters on its key findings and observations during the state elections, Ojukwu said the environment before the elections were fraught with tension arising from reports and allegations of threats from different political parties and their supporters concerning the elections.
According to the Commission, ethnic division and hate speeches were rife in many states, including Lagos, Enugu, Kano, Kaduna and Rivers.
This he said led to the publication by the NHRC of an Advisory on Hate Speech Based on Ethnic and Religious Sentiments and 2023 General Elections in Nigeria on the 16th of March 2023.
He said in Lagos, Enugu, Ebonyi and a few other states, there were threats of violence on opposition supporters, including the use of traditional institutions, schools and the public service.
The Human Rights Commission which also decried voter aparthy and general turn out of voting public during the polls, insisting that when compared to the Presidential and National Assembly Election of February, the Governorship and House of ASsembly elections witnessed a low voter turnout.
"In states like Niger, Kwara, Benue and Kogi, the turn out was abysmally low and in almost all the south eastern states, low turn out was also recorded. It is important to note that the NHRC in its monthly Review Forum on Human Rights and the 2023 Elections has warned that the consequences of the hitches and irregularities recorded in the Presidential election were capable of increasing voter apathy.
" It is also important to note that threats of violence prior to the elections may also have played a major factor," Ojukwu stated.
Commenting on the arrival of personnel and other logistic arrangements, the Commission submitted that overall report from their monitors showed that INEC officials and materials arrived relatively early across the country.
"Our field monitors reported that 7% of polling officials arrived between 6:00 am and 7:00 am , while 40% of the officials arrived between 7:00 am and 8:00 am. However, 4% of INEC officials came after 10:00 am, leading to delays in some polling units. Additionally, our monitors reported that voting materials arrived on time in most polling units, with 37% arriving between 7:00 am and 8:00 am and 40% arriving between 8:00 am and 9:00 am. 13% of materials arrived between 9:00am and 10:00 am while 5% arrived after 10:00 am," it stated.
The Commission noted that it was unfortunate that only the electoral umpire, the Independent National Electoral Commission (INEC) was empowered to prosecute electoral offenders, stressing that INEC which is already overwhelmed by the conduct of elections shouldn't be saddled with prosecuting offenders.
He called on the media and other stakeholders to continue to put these issues of electoral infractions on the front burner of public discourse, so as to stir up guilty consciousness among the perpetrators.
The Commmission said it received reports of incidents of violence, including cases of assault, vandalism, destruction of election materials and polling units in 16% of the polling units monitored. While there were reports from Rivers state of hoodlums attacking the INEC officials and stealing the BVAS device and election materials.
"There were also reported cases of abduction of INEC Officials in Isu LGA of Imo state and attack on INEC officials in Odoakpu Ward 7, Onitsha in Anambra state.
"There were also various reports of attacks on polling units from Lagos, Rivers, Nasarawa and Enugu states. In Kano state there was a report of violence in Rogo ward of Sabo Gari Local Government Area that led to the death of one person.
" The Commission also received reports of disruption of elections in Ogbia Constituency 2 in Ogbia Local Government Area of Bayelsa state. This resulted in no elections in 4 wards and 94 polling units. There was also a report of ballot box snatching in Enugu East LGA. The attack on the ARISE News crew at Elegushi Palace. We call on law enforcement to investigate these and other incidents of violence and bring perpetrators to book.
"The Commission also received reports of the killing of thugs in Lagos, Katsina and Benue states, Labour Party agents in Lagos. Elections are not war and no life should be lost in the process of elections," Ojukwu lamented.