Two killed as gunmen attack INEC office, police station in Anambra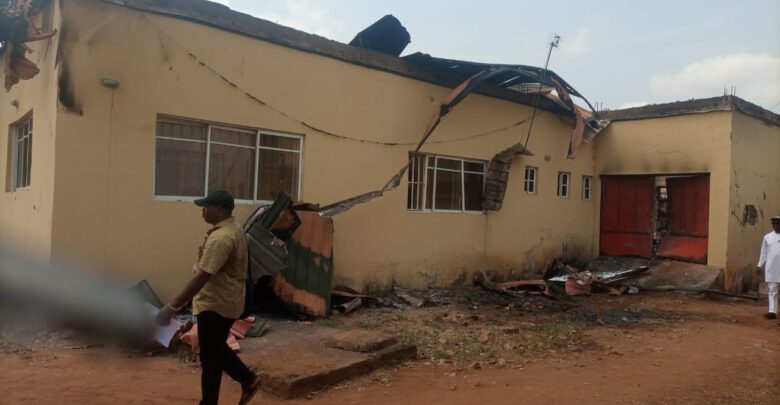 By Divine Nwakanma
The Idemili South Local Government Area office of the Independent National Electoral Commission (INEC) was attacked early Wednesday, police authorities confirmed.
The Anambra police command also said a police station was attacked by the gunmen in Ojoto.
Spokesman Tochukwu Ikenga added that two casualties were recorded.
"The hoodlums, who came in their numbers at about 1:45 a.m. today with four unmarked Sienna cars, armed with improvised explosive devices, petrol bombs, invaded the INEC office, the police station and a residential building within the station.
"Unfortunately, a 16-year-old relative of a serving policeman in the station was murdered by the armed men while another 15-year-old girl sustained gunshot injury," Mr Ikenga said.
He said that the injured girl was taken to an undisclosed hospital for treatment 
A statement by Festus Okoye, National Commissioner & Chairman
Information and Voter Education Committee on the incident said:
"The Resident Electoral Commissioner (REC) for Anambra State, Dr. Queen Elizabeth Agwu, reported that our office in Idemili South Local Government Area (LGA) was attacked and set ablaze by unknown gunmen. The incident occurred in the early hours of today Tuesday 1st February 2023.
"The building was substantially damaged. All furniture and other items were destroyed, including non-sensitive materials recently delivered in readiness for the 2023 General Election. Among the items lost to the inferno are 729 ballot boxes, 243 voting cubicles, 256 election bags, 11 megaphones, 1 electric power generator and large quantities of indelible ink and liquid gum.
"However, uncollected Permanent Voters' Cards (PVCs) kept in the fireproof cabinet were not affected by the inferno. Similarly, no sensitive materials have been delivered to the LGA office.
"The destruction appears to have been coordinated as the Nnobi Police Station in the LGA was similarly attacked.
"Despite this despicable incident, the Commission wishes to reassure the people of Idemili South LGA that contingency arrangement will be made to replace the materials and the Presidential and National Assembly elections will proceed on 25th February 2023 as scheduled, to be followed two weeks later by the State House of Assembly election."