Tinubu flutters again: Hails El-Rufai for turning Nigeria's "rotten situation into a bad one"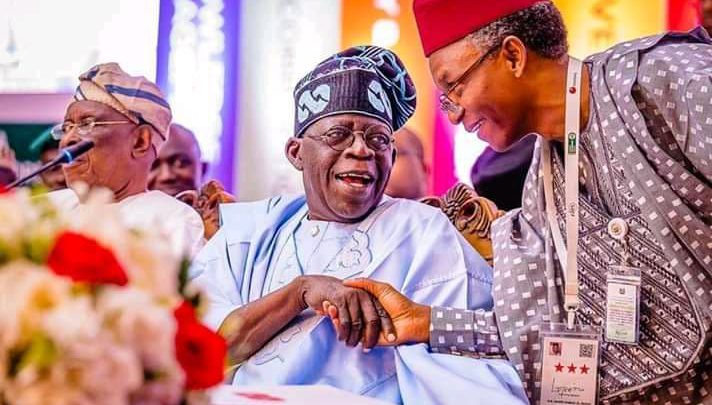 Bola Tinubu, 2023 presidential candidate of the All Progressives Congress (APC), has hailed Kaduna state governor Nasir El-Rufai's "creativity and resiliency in turning a rotten situation into a bad one," a gaffe that has again raised questions about Mr Tinubu's mental capacity to hold the nation's highest office.
Appealing to Mr El-Rufai not to leave the country, Mr Tinubu said the nation was in dire need of creative thinkers like the Kaduna governor. Mr Tinubu made the mistake while addressing attendees of the Kaduna Investment Summit which was held at the Umaru Musa Yar'Adua conference hall in Kaduna on Saturday.
"Nigeria needs thinkers and doers. I'm openly begging Nasir El-Rufai not to run away for additional degree. There are lots of educated relics. We are not going to let you run away," asserted Mr Tinubu while mounting the podium on Saturday.
"Your vision, creativity and resiliency in turning a rotten situation into a bad one is necessary at this critical time," added the APC presidential flag bearer.
Mr Tinubu, unaware of the gaffe, did not make any effort to correct himself. The gaffe would be the latest addition to his slurred and incoherent comments at public functions. 
The incident has again renewed worries about both Mr Tinubu's mental and physical ability to handle the rigours of presidency should he win the presidential elections in 2023.
A photograph of the former Lagos governor emerged in September, where he wore an inner device believed to be a 'catheter bag' to expel urine, further raising questions about his frail health status.
In the same vein, Pat Utomi, a former APC chieftain and political economist, challenged an "ailing" Mr Tinubu to undergo a medical test and publicise the result to convince Nigerians that he was capable of being the next president.
Mr Tinubu has, however, emphasised that it is "unnecessary" for him to be physically fit to rule Nigeria, stressing that he was seeking to be president because he has the necessary mental alertness to govern a diverse and developing nation like Nigeria. PG.