Security in Anambra State: Oshiomhole Lied – Obi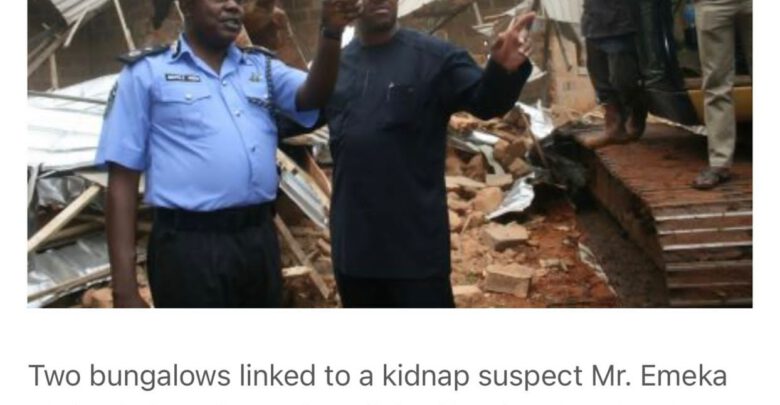 The Presidential Candidate of the Labour Party, Mr. Peter Obi, has said that the Former Governor of Edo State, Comrade Adams Oshiomhole lied about security in Anambra State during his tenure. Speaking at the Youth Conference of APC, a party he was their past Chairman, Oshiomhole said it was Obi's successor that started demolishing houses of kidnappers in Anambra State. Oshiomhole also said that it was Obi that brought the Bakassi boys into the State.
Replying him through his Media Adviser, Mr. Valentine Obienyem, Obi stated that the records were clear over who did what on security in Anambra State. Citing mischief and bias as Oshimhole's motivation, Obienyem said: "It is a pity that a Former Governor, who ought to be informed, would credit the bringing into the state of Bakassi boys to Mr. Peter Obi, when elementary enquiry would have shown any genuine seeker that it was under Dr. Chinwoke Mbadinuju, which was even before Sen. Chris Ngige, that Bakassi people operated in Anambra State."
Obienyem said that Obi had always said on countless fora that as a private citizen, that it was the witnessing of the killing of Prophet Eddy of Nawgu by Bakassi people without compunction and the arbitrament of the law that contributed to his entrance into politics – to restore sanity, humanness, decency and sanity to the society.
On the claim that it was after Obi that the demolition of kidnappers' houses started, Obienyem said it was a childish, condemnable and shameless lie. In his words: "Obi was actually the person that started the demolition of buildings associated with kidnapping in Nigeria, which other Governors started to emulate. Though evidence abounds, as when various newspapers reported the demolition of houses by Obi as in https://thenationonlineng.net/obi-demolishes-kidnap-suspects-homes/amp/; https://newsexpressngr.com/news/472-Breaking-News-Obi-keeps-promise-demolishes-houses-of-king-of-kidnappers ; https://www.nairaland.com/1084091/anambra-demolishes-houses-kidnap-robbery, but we will refer Oshiomhole and his likes to the statement by principal actors during those fevered times."
Thereafter, Obienyem provided copious statements from Former Commissioners of Police in Anambra State on the matter. Starting with Former Commissioner of Police, Alhaji Bello Amusu, he quoted his interview and also provided a link to it (https://www.thisdaylive.com/index.php/2017/09/29/bello-the-security-anambra-is-enjoying-today-was-as-a-result-of-the-efforts-of-peter-obi/) , on how Obi approached security: "There were lots of innovations brought about by Mr. Peter Obi at the police headquarters at his expense. He provided money, we put up structures and the state headquarters was given a face lift. He financed state headquarters, fenced it, provided infrastructure, procured communications vehicles, armoured cars, and provided weekly allowances of all officers and men of Anambra State Police Command. So, the morale was very high. There were constant meetings with other services, the military and other para-military services in the State. We co-opted the vigilante. We were working together because we used the vigilante very well in Anambra State. I disabused the minds of my officers who countered the formation of vigilante. I made them understand that they have not taken over our duty. There must be synergy and that was why I often invited them for meetings, to integrate them into what we were doing."
On other issues, including the demolition of kidnappers houses, Bello continued "Obi's administration provided over 600 patrol vehicles to various security agencies in the state including Immigration, NDLEA, FRSC, Nigerian Prisons etc. He fenced some police formations and fenced the Army Barracks, he worked for the siting of Naval Outpost in Odekpe and provided over 250 vehicles for vigilance groups in markets and communities. He started the demolition of property owned by kidnappers and his Chairmanship of South East Governors Forum for years brought about the needed synergy between the Governors to chase away dreaded armed robbers from the South-East. He started Security Trust fund."
Likewise, Obienyem also quoted the assertion of the Retired DIG, Philemon Leha on https://www.vanguardngr.com/2017/10/obi-laid-foundation-security-enjoy-anambra-retired-dig-leha/ to counter what he called "Oshiomhole 's shamlessness." Leha had said: "People who do not understand him to tag him a 'miser' because he does not throw public funds around like many other politicians but it is really his philosophy they fail to appreciate. From my observations as a trained policeman and interactions with him, Peter Obi has Anambra State at heart. He wanted to take the state to a greater height, which he did. In the process, he endeavoured to raise a team of men, women, and organizations with good intentions for the state.
"Indeed, he was highly instrumental to the success of my assignment of combating crime and criminality in Anambra State. Aside from his support for the security agencies, he promoted collective responsibility for security and initiated the demolition of properties belonging to or used by kidnappers to discourage their nefarious activities.
Obienyem went further to also corroborate the foregoing with the assertion of retired AIG Usman .A. Gwari who was in charge of Zone 9, Umuahia, Abia state on https://www.pressreader.com/nigeria/thisday/.
Gwari said: "When I came in, the first thing I did was to make sure that there was a very good synergy between the police and other security agencies. I initiated meeting with service commanders in my office; initially on a weekly basis before we later changed it to twice a week.
"And thanks to the former Governor who provided virtually all we needed to work with, including all the logistics but not without his calculator close by. Obi was working in all institutions of Government simultaneously and became a reference point then and I was happy when Governor Willie Obiano came and continued from where Obi stopped because Obiano inherited all the institutions started by Obi. Obiano is consolidating on Obi's foundations, because Obi was really an enigma and achieved in leaps and bounds.
"I can say yes without mincing words. Obi did very well because he helped us to reduce crime rate to the barest minimum, to the extent that the violent crime like armed robbery in banks were history, kidnappers in the state ran away. The issue of destruction of houses where criminals used to perpetuate crime in the state, started during Obi's time but it was well publicised during Obiano's tenure. Obi initiated it and sent an Executive bill to the House of Assembly for confiscating and demolition of property of kidnappers, I should think so because it was the magic needed to deter people from crime of kidnaping for ransom."
Obienyem who was confident that the verdict of the principal participants in the restoration of security to Anambra State were enough to buttress the truth, however, went further to enumerate other things Obi did on security to include purchase of Armoured Patrol Vehicles for security agencies in the state; being instrumental to the establishment of Naval Outpost at Odekpe, which he supported with N200 Million million; fencing of Onitsha Barracks and construction of its internal roads; provision for the first time, of over 250 patrol vehicles to towns and organisations in the state, among others.
Obienyem said that no amount of campaign of calumny would distract Nigerians from the peaceful movement to take back their country from the likes of Oshiomhole. Obienyem reminded Oshiomhole that the choice of Obi to lead the peaceful movement was based on his antecedents as a leader that could be trusted.
The choice of Obi, Obienyem said was informed by many factors. "One of those factors Was his lone stand on the need to save money by the Federal Government for the rainy day, during which the group led by Oshiomhole insisted that it was already raining and that nothing should be saved.
Obienyem recalls that it was that philosophy of saving that made Obi save over N75 billion for Anambra state amidst many tangible achievements, even when the likes of Oshimhole, without any tangible achievements left debts of over N800 billion for Edo State.
Insisting on Oshiomhole's incompetence to speak about Obi, Obienyem asked the correlation between a Former Governor that left over N70 billion debt to contractors and the one that left none; a man that owed over 6 years arrears of pension and gratuities and the one that cleared outstanding arrears of over N35 billion and owed nothing before he left; a man who paid himself N200 Million severance package with a house worth over N300 million and a man who received nothing; and a man whose moral example is inspiring versus a man who is evidently controlled by money.
.