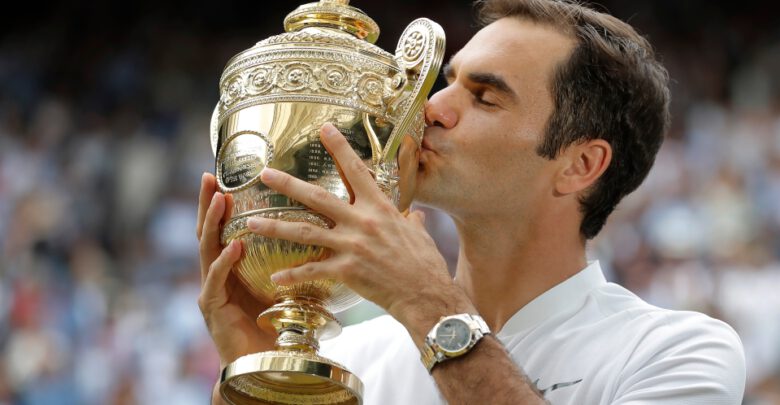 Roger Federer has announced that he will be retiring from tennis after next week's Laver Cup.
Fans have been waiting more than a year to see the 41-year-old back on the court and he has now decided to bring an end to his illustrious career, revealing he has played his last Grand Slam.
Federer won his first Wimbledon title in 2003, and became adored by the SW19 fans
His record-breaking eighth – and final – Wimbledon title came in 2017
The Swiss superstar – a 20-time Grand Slam winner and record eight-time Wimbledon champion – has not played a professional match since limping through a quarter-final defeat at SW19 in 2021.
He will appear in next week's Laver Cup in London, the Ryder Cup-style competition that was his brainchild, but will then leave the professional game.
Federer said: "To my tennis family and beyond. Of all the gifts that tennis has given me over the years, the greatest, without a doubt, has been the people I've met along the way: my friends, my competitors, and most of all the fans who give the sport its life. Today I want to share some news with you.
"As many of you know, the past three years have presented me with the challenges in the form of injuries and surgeries. I've worked hard to return to full competitive form.
"But I also know my body's capacities and limits, and its message to me lately has been clear. I am 41 years old. I have played more than 1500 matches over 24 years. Tennis has treated me more generously than I ever would have dreamt, and now I must recognise when it is time to end my competitive career.
"The Laver Cup next week in London will be my final ATP event. I will play more tennis in the future, of course, but just not in Grand Slams or on the tour."
Federer was a junior Wimbledon champion, before turning professional in 1998 and took a few years to fulfil the hype around him.
Once he got that first Grand Slam, he dominated the sport. He won six Australian Opens, five US Opens and the French Open once.
Now he will bow out of the game he enriched for so long after making his farewell at the Laver Cup.