Adam's Apple and the Stench of Political Bicycle Kicks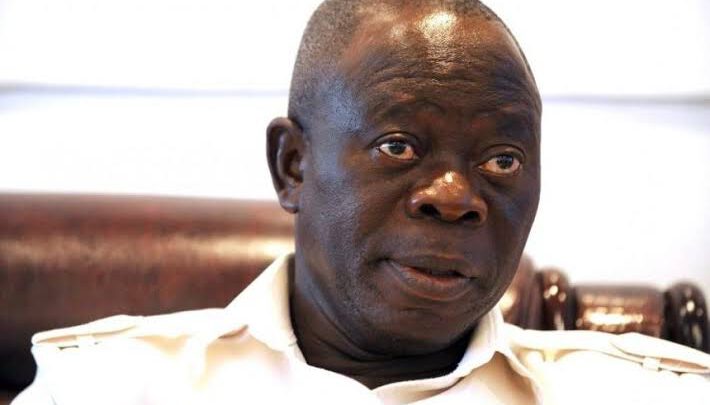 By Nkem Alu
When after 1982, Adams Oshiomhole became the secretary general of the Nigerian Union of Textile Garment and Tailoring Workers of Nigeria, a man of many wings was teething. In 1999, he became president of the Nigerian Labour Congress, NLC and his assiduity was not in doubt as he saddled till 2007. When the textile union re-elected him as general secretary while he was still NLC president, it became double portfolio for the man whose facial cut was quite befitting for the jagged terrain of the labour union. It took an amphibious fibre to lead the NLC then. Your expertise at divulging waffle and trading tantrums easily sold you. If you were not a Fela Anikulapo Kuti, then you were an Adams Oshiomhole or a Gani Fawehinmi, to mention a few.
Political bigheadedness does not emerge overnight, it grows over time, and so did Adams Oshiomhole. Wait a bit, was Bolaji Abdulahi not the spokesperson of the All Progressives Congress, APC when Chairman Oshiomhole verbosely overtook Bolaji in talking for the party, in addition to behaving like he was Buhari himself? Upon a show of uneven bragado, Oshiomhole had tongue-lashed Chris Ngige for refusing to inaugurate the boards of parastatals under his ministry as directed by the president. Pulse.ng on 24th July, 2018 reported Oshiomhole as saying; "Ngige's conduct constitutes a lack of respect for the president and the party and could lead to his dismissal from the party and his cabinet position." Adams, a party chairman was challenging a minister for 'disrespecting' the president; then he also prescribed dismissal from the party. Both president and minister were members of the Federal Executive Council, FEC but Oshiomhole was not. What brazenness!
The exodus of 15 senators, 36 House of Representatives members and Governor Samuel Ortom of Benue State to the PDP was a punch too many. Then courtesy of his outlandish way of talking, Oshiomhole called them "men without electoral value". During the brouhaha between Oshiomohole and Obaseki over party control in Edo, darty Oshiomhole was punching others and punching himself as well. After some reasonable bouts, Obaseki landed on the ringside of the Peoples Democratic Party, PDP and picked his second tenure. That was it; Oshio Baba's state was not an APC state anymore and his body was full of mud, blisters, bruises; all of them! Why did two former commissioners in Oshiomhole's ex-cabinet, Chief Lucky James and Mrs Inumidun Idehen kick against his decision to contest for the senate in 2023, rather preferring the re-election of incumbent Senator Francis Alimikhena? A man always rejected at home should not come to the public square to talk down men of integrity.
The last time I checked, Simon Lalong was the director-general of the APC 2023 presidential campaign, with Adams Oshiomhole as deputy and Festus Keyamo as spokesman. Now, again, Oshiomhole overtook both DG and PRO in his characteristic garrulousness, to spit against the Labour Party and HE Peter Obi. Why weren't they bold enough to make him campaign DG direct? Because his mouth could go right ahead of him to damage things. But as it stands, he appears even confident to usurp from the assistant pilot's seat. According to PM News online (3rd August, 2022) Oshiomhole said that "this 'obedient' or 'disobedient' time will tell". In saying that Obi has not been able to tell Nigerians how he wanted to do what he said he was going to do, Oshiomhole added that Obi had tactically dodged some intriguing questions put across to him during interviews. Let Oshiomhole be specific; name each interview, location and subject matter, each question put across and what answers His Excellency, Peter Obi gave. Buttress your claims and wait for response from the masses!
And by calling 'Obidients' "4 men in a room", a way of mouthishly decelerating the millions of Obi-Datti followers as being few; not really many, and also inferring that theirs is an internet-generated crowd, the loquacious one has shown his blindness to the real life realities on ground behind the 'Obi-dient' movement. Can 50 Adams Oshiomholes, in all their might, stand a Peter Obi in the global leadership ring today? I think Adam's apple is beginning to project well beyond the throat again. The man who could not manage his party, home state and waggling mouth should lock up. With brick-facedness and repulsiveness, he seems to have found his tongue after a very long time, to kick squally diatribes at Peter Obi and his followers. What a gymnastic error? Adam's apple is really a stench. Nigerians will vote Obi-Datti in 2023 because we have had enough of fake political bicycle kicks by rudderless showmen in power!
#LetUsTakeBackOurCountry
Alu writes for PO Express Media, POEM.
Follow us on Twitter…
https://twitter.com/Obi_media/