Lokoja-Obajana-Kabba Road closed for 7 weeks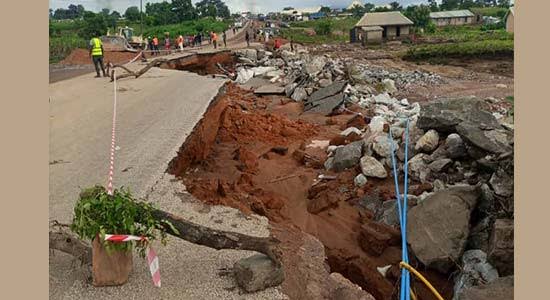 From Joseph Amedu, Lokoja
The Federal Ministry of Works and Housing has ordered the immediate closure of Lokoja-Obajana-Kabba road to enable reconstruction of the road and culverts washed away by floods in 2021.
Engr Jimoh Kajogbola, Federal Controller of Works in Kogi who disclosed this at Obajana on Friday said the situation had necessitated the diversion of traffic from the Kabba Junction-obajana-Kabba road to Kabba Junction-Okene-Kabba.
Kajogbola specifically called on Motorists from North-Central and South-West of Nigeria plying the Obajana-Kabba highway in Kogi to use the alternative Lokoja-Okene-Kabba road.
According to him, the Lokoja – Okene – Kabba road is free. Lokoja (Obajana Junction) to Okene is under dualization which is almost completed and the Okene Township Road has been repaired just as Okene-Kabba Road.
The Federal Controller said that Obajana-Kabba Road would be closed as from tomorrow the 27th of May and reopen by the 15th of August by God's grace.
"So, Nigerians should bear it with us. It is for our collective good. We cannot leave this section of this road like this for people to be dying. We need to repair it.
Explaining the situation to newsmen Kajogbola said, "We had an unfortunate washout last year. The rain was so heavy that the road was cut off and the culvert washed away.
"Immediately it happened, we called the stakeholders, the dangote plant, the road safety, the Federal Ministry of Works and AG Dangote a nearby contractor to come to our aid and a temporary diversion was created.
"Fortunately, the Honourable Minister of Works, Mr. Babatunde Raji Fashola, immediately approved the reconstruction of the washout with a relief box culvert which started immediately but due to some factors it was delayed a little bit by the Contractor", the Controller said.
Kajogbola however, said that the contractor has got to a point where the remaining part of the road presently in use would require a cut off for effective completion of the road work adding that this would not allow free flow of traffic.
"So, we need to divert the traffic from here to an alternative route of almost the same length.
"We are pleading with road users to use Obajana Junction – Okene – Kabba road instead of using Obajana-Kabba road directly. Adequate Directional Road Signs have been provided to guide the motorists", he said.
Also speaking at the occasion, Mr Samuel Dawulung, Kogi State Sector Commander of the Federal Road Safety Commission (FRSC) promised to ensure orderliness at the diversion points.
End.