9 dead bodies recovered from Kano explosion site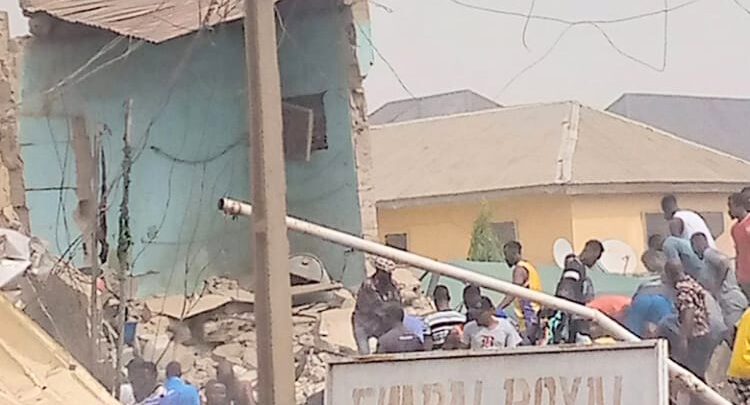 Ihechi Enyinnaya (wth Agency Reports)
Nine dead bodies have been recovered so far from the rubble of a collapsed building beside a primary school following explosions from gas cylinder at Aba Road in Sabon Gari area of Kano.
This was as the Kano government has called on residents to remain calm after Tuesday's gas explosion in the Sabon Gari area of the state.
This is contained in a statement by Muhammed Garba, the state's Commissioner for Information, on Tuesday in Kano.
Mr Garba said that the situation had been brought under control, as security agencies had taken over the area for rescue operations and investigation.
"The state government will keep the public abreast of any development," he said, causing residents against fake news and speculations on the incident.
He also faulted the claim that the explosion occurred in a school, saying that it happened near an animal feed store opposite the school on Aba Road, Sabon Gari, Kano.
He said that while the cause of the explosion and the damages were yet to be ascertained, investigation has commenced.
He urged residents, especially those living in the area, to remain calm, saying that the government was working with relevant security agencies to restore normalcy.
The police command in the state had confirmed the killing of four persons following the incident.
Initial visuals from the explosion site showed several schoolchildren being moved away from the scene. One of them was injured. This led to speculation that the explosion occurred in a school.
But the Kano State Government has said that was not the case.
The Commissioner for Information in the state, Muhammad Garba, said in a statement the blast happened at an animal feed store opposite the school.
There has been confusion about what the cause of the explosion was with some reports saying it was a bomb.
The commissioner, however, said the cause of the explosion and the damage it cause had not been ascertained.
According to him, an investigation has commenced to determine the cause, impact, and measures to be taken.
He called on people in the state, particularly those living in the area where the incident occurred to remain calm while the government works with relevant agencies on the matter.
He cautioned the public against spreading unsubstantiated news and gave the assurance that the government would keep the public updated on any development on the matter.