132 perish as boeing 737 passenger plane crashes in China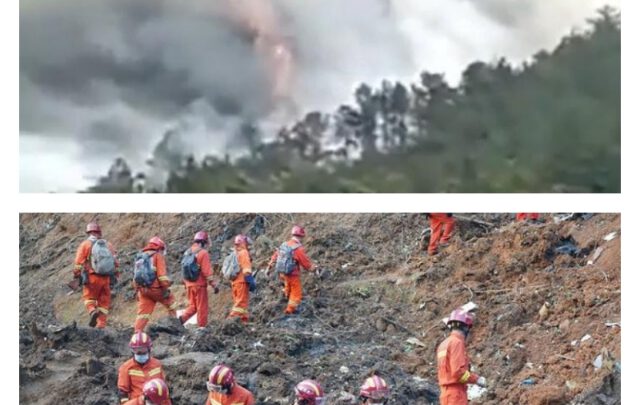 It is feared 132 people have died after a Boeing 737-800 NG plane operated by China Eastern Airlines crashed on Monday in the southwestern Chinese province of Guangxi.
There were 132 people on board – 123 passengers and 9 crew – and the plane went down in a mountainous area near the city of Wuzhou, according to the Civil Aviation Administration of China. Parts of the wreckage have been found.
China Eastern said it will ground all of its Boeing 737-800 jets starting on Tuesday. An emergency telephone assistance line for family was set up and the carrier expressed deep condolences to passengers and crew members on board.
China Eastern's website, mobile app and some of its social media platforms were turned to black and white in a sign of mourning.
Parts of the wreckage of the missing aircraft have been found, according to the state-run media outlet People's Daily. Some 117 rescuers have arrived on site, while another 650 have been dispatched from Guangxi province's firefighting crew.
Family members of the passengers are being settled at Terminal 1 at Guangzhou Baiyun airport, many crying uncontrollably.
A cargo driver was driving on the highway from Nanning, Guangxi's provincial capital, to Wuzhou when he saw an aircraft in free fall.
"I was about two to three kilometres away, I couldn't hear the sound but the black smoke was there, it looked like an explosion," the man told local media. He said the whole incident only took a few seconds and by the time he was shooting with his phone, he could only capture smoke.
"It was so horrible, I only just realised later on there were more than 100 people on the flight."
The Boeing 737-800 NG model that crashed is considered one of the safest aircraft ever made. The single-aisle jet is part of the NG, or Next Generation, era that preceded the 737 Max, which was subjected to a global grounding after two deadly crashes.
The NG has one of the best safety records among all aircraft, with just 11 fatal accidents out of more than 7,000 planes delivered since 1997, according to aviation consultancy Cirium. The China Eastern jet involved was about six years and 10 months old, according to FlightRadar.
"I wouldn't expect today's crash to have any bearing on the Max return to service in China," aerospace industry analyst John Strickland said.
Prior to Monday, there had been 22 hull losses – aircraft damaged beyond repair – with a total of 612 fatalities, according to the Flight Safety Foundation's Aviation Safety Network.
Flight MU5735 was traveling at an altitude of 29,100 feet at 2.19 p.m. local time when it went into a steep decline, according to FlightRadar24 tracking data. The aircraft then fell at speed more than 25,000 feet in less than three minutes to an altitude of just 3,225 feet when tracking data ended.
There are 4,502 Boeing 737-800 NGs in service globally.
Videos of where the plane apparently crashed showed a significant fire in a green, heavily wooded area. The jet appeared to land on the side of a hill near what looks like a stone building of some kind. Guangxi is famed for its unique terrain, with the northeast of the province home to sheer limestone peaks known as karsts.
The plane crashed near the city of Wuzhou on Guangxi's border with Guangdong. It was headed to Guangdong's capital, Guangzhou.
The crash comes as Boeing prepares for the re-entry of its 737 Max into commercial service in the country, a lucrative aviation market.
China was the first major aviation market to ground the Max three years ago after the second of two fatal crashes that killed 346 people in total, and one of the last to see its return. The market is so large that Boeing's plan to further ramp up production depends on the resumption of deliveries to China.
The aircraft involved in Monday's crash wasn't a new-generation Boeing Max jet.
The US planemaker is currently gathering more information on the crash that happened in southwest China, state broadcaster CCTV reported, citing company staff.