INEC Chairman tasks online publishers on Electoral Reporting, decries fake news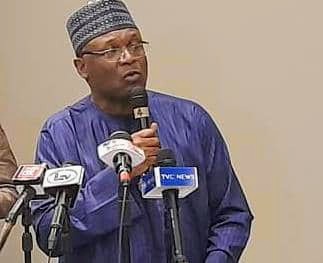 By Ihechi Enyinnaya
Chairman of the Independent National Electoral Commission (INEC), Prof. Mahmood Yakubu,
has urged online media practitioners to ensure fairness and objectivity in reporting the activities of the commission, particularly during elections.
Prof. Yakubu spoke in Lagos on Wednesday, at an interactive session with members of the Guild of Corporate Online Publishers (GOCOP), an event put together by the commission in collaboration with the International Press Centre (IPC) and the Institute for Media and Society(IMS).
He expressed concern that people who are bent on undermining Nigeria's democracy are engaging in the publication of fake news, noting however, that the greatest antidote to fake new is greater transparency and openness.
He said: "One major area where we need your help is in containing fake news. The emergence of the Internet brought with it tremendous opportunities for all sectors, including the media and it has broadened the scope of human abilities to share information and knowledge within seconds.
"The dynamism of the social media, enabled by the power of the internet, has made it possible for media organisations like yours, to upload narratives which in turn are transmitted to digital platforms such as cell phones, Facebook, Instagram, Twitter and so on, providing an opportunity for millions of people all over the world to watch them within a short time. 
"Quite often, those who try to undermine the electoral system and their sympathisers take advantage of the free social media space and sometimes even the traditional media to advance their interests and spread falsehood. This can take various forms. They can, for instance, cook up wild allegations against the Commission and/or its officials to frustrate a good policy which they perceive as inimical to their selfish interest. When such allegations get to you, please thoroughly investigate."
Prof. Yakubu expressed joy over the success of the recently concluded Anambra governorship election, noting that the commission has learnt lessons from the challenges experienced at the poll and is determined to build on the success.
He said: "From our assessment so far, much of the glitches encountered on Election Day in Anambra State had little to do with the machines but more with the operators of the system. The extraordinarily difficult circumstances under which the election was held meant that some of the better trained ad hoc staff withdrew at the 11th hour. Similarly, some critical service providers such vehicle owners also withdrew thereby severely affecting our plans for rapid response by our technicians – the Registration Area Technical (RATECH) staff. Technical issues relating to the performance of the BVAS will be addressed in the presentation by our Director ICT at this important meeting. Suffice it to say that in spite of the glitches, BVAS has justified our determination to deepen the deployment of technology in the electoral process.
"Given the credible conclusion of the election, it has strengthened our belief that even the minimal introduction of technology in voter accreditation is better than the best manual process. We want to thank the voters in Anambra State for their patience and faith in the new technology. This has also justified the hope of citizens across the country that the deployment of more appropriate technology is essential to electoral integrity in Nigeria."
On the new technologies being deployed by the commission for elections, he expressed the hope that the country's elections will become more fair, transparent and credible