Teenage girl killed as Police open fire to disperse Yoruba agitators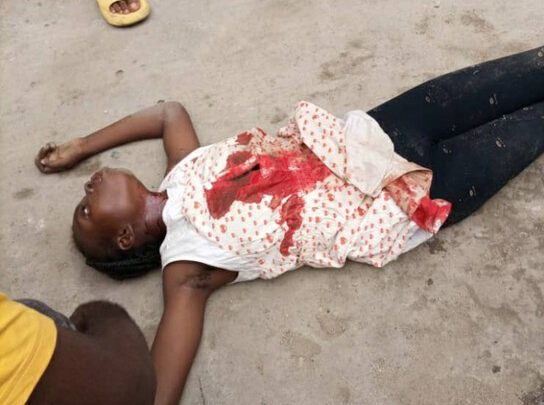 By Ihechi Enyinnaya
A young girl has been shot dead in Lagos after police officers opened live rounds into protesters seeking an independent nation for Yoruba people.
President Muhammadu Buhari and his security chiefs and ministers have warned repeatedly that separatist agitations will be met with brutal force. On Friday, national security adviser Babagana Monguno said the president had approved a list of people to be targeted for their secessionist activities.
As protests Yoruba nation raged across Lagos on Saturday, the police fired live rounds to disperse crowds around Ojota, killing a young woman and wounding several people. A picture of a protester who was killed by police bullets was posted on Saturday afternoon by Sahara Reporters.
The young woman appeared to be in her trading shop when she was fatally hit. Social media reports said she was only 14-year-old. The specific location of the shooting was not immediately clear. A spokesman for the police in Lagos did not immediately return a request seeking comment about the fatal shooting.
The Lagos state Police command had on Friday embarked on show of force across state to send signal against the planned rally.
Speaking at Ojota, the Lagos Commissioner of Police, Hakeem Odumosu, said the aftermath of the End SARS protest necessitated the need to prevent any rally over fear of being hijacked by the hoodlums.
Chanting different songs of freedom and flying their flags, the protesters said the nation is bleeding and they need Oodua Nation.
The agitators insist that it is time to have a separate nation for the Yoruba ethnic group because they are suffering and are being marginalised.
They insist that their rallies are peaceful and had taken place in other southwestern states before Lagos State.
"We are not fighting with anyone, we just want Yoruba nation now. Give us our own nation, Nigeria is not working anymore," one of the agitators told Channels Television.
The agitators surfaced around 11.20 am when the Commissioner of Police, Hakeem Odumosu, was addressing journalists.
The Commissioner told journalists that the heavy security presence is to ensure that the protest is not hijacked by hoodlums.
"We are here because we don't want the rally to be hijacked by hoodlums, we not chasing anybody away," the CP told Channels Television.
Before the agitators arrived at the scene of the protest, the police said they are prepared to ensure that there is no breakdown of law and order.
A combined unit of Op Mesa, Task Force, Rapid Response Squad, and police officers led by the Commissioner Of Police, Hakeem Odumosu were seen at the park calming those already gathering for the rally.